Apple (NASDAQ:AAPL) has abandoned Google Maps in favor of its own solution in the newly released iOS. But it seems that from a consumer point of view, that this move has some undesirable consequences – at least in Asia.
Japan Mobile Tech blog contrasts the very low detail for some areas in Japan, notably some train stations which show up as little more than a point on a map. Of course Google has a pretty big head start in developing its maps, and Apple will improve over time – but in terms of delivering the best possible experience to your users, there is little doubt that this isn't it. JMT also says that even Narita airport is apparently not in Apple's database [1].
Meanwhile, across the water in China it appears that Apple has an entirely different set of problems. Tony Zhu over on Morning Whistle claims that some users are finding their maps app being directed to maps from TomTom (AMS:TOM2), Apple's partner outside of China, rather than maps from Apple's China partner, AutoNavi (NASDAQ:AMAP).
Islands for everyone!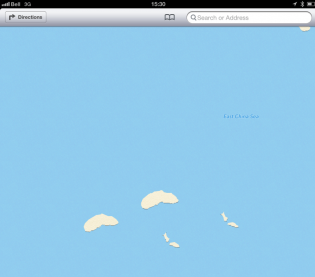 And if that wasn't enough of a clustermuck, Samuel Wade points out on Twitter that Apple's map has duplicated the disputed Senkaku islands, showing two sets where there should be just one (pictured right) [2]. Is this Apple's effort at a diplomatic solution, providing a set of islands for each country?
It might be a screw up, but it's certainly better than Baidu's stance.