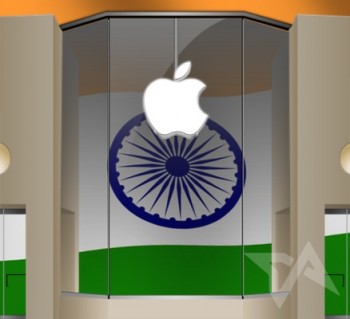 Apple (NASDAQ:AAPL) looks set to try a new retail strategy in India, opening up as many as 100 Apple franchise stores in major and smaller cities across the country.
This information – as spotted by BGR – was leaked to media after senior Apple India executives reportedly met with 20 CEOs from electronic retail chains. The plan is to have officially franchised Apple stores – like Starbucks franchises – in 50 tier-two and tier-three cities such as Jaipur, Pune, and Agra (home to the Taj Mahal).
Apple has no official, self-owned retail stores in India, instead relying on a mix of official and unofficial resellers, as well as some telco partnerships for iPhone and iPad sales.
If Apple does try a franchise model in India, it would bring the Californian company closer to the strategy employed by its main smartphone rivals, Samsung and Nokia.
The CEO of one of India's retail chains told The Economic Times today:
Apple has realised that if it wants to grow fast in India, it has to look beyond the metros. The company wants to grow upwards of 30 percent year-on-year in India and feels the smaller markets would play a critical role since the aspiration level of Apple products amongst the youth and rich is growing there as well.
Apple only has 3.6 percent share of smartphone market revenue in India, hobbled by pricey gadgets in a very price-sensitive nation. Cheaper Android devices have helped Samsung take the lead in India, with local telco Micromax growing strongly on the back of Android as well. Even Microsoft's Windows Phone platform is ahead of Apple's iOS in India.
(Source: The Economic Times)
(Editing by Paul Bischoff)