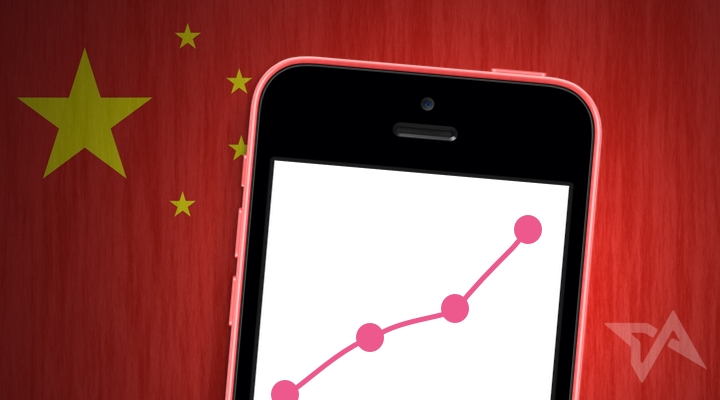 Apple (NASDAQ:AAPL) has revealed its financials for the quarter ending December 28, 2013 (called fiscal Q1 2014). They show that the Cupertino company brought in $57.6 billion in revenue and $13.1 billion in profit.
All eyes were on Apple's performance in Asia where growing revenue offset weaker long-term growth in the US. Apple saw 64 percent of its income from areas outside the Americas in Q1, notes TechCrunch. (Update: Mashable spotted an interesting number: there are now 130,000 apps from Chinese developers in Apple's App Store).
The Greater China area saw a record $8.8 billion for Apple, up from $6.83 billion the same period a year before. Apple's Japan revenues grew slightly to $4.9 billion, while other Asia-Pacific areas brought in $3.6 billion. Another post by TechCrunch puts it into one handy interactive chart:
"A new high water mark"
In the post-earnings conference call, Apple CFO Peter Oppenheimer said Apple was "very pleased with our performance in emerging markets." CEO Tim Cook elaborated on recent developments in China, saying "We've been selling with China Mobile for about a week … and it's been an incredible start." He described sales in the country as "a new high water mark."
From October to December 2013, Apple sold 51 million iPhones, 26 million iPads, and 4.8 million Macs around the world. But analysts had expected 55 million iPhone sales.
Apple predicts a flatter performance in the next quarter, though the spending spree in the run-up to this week's Chinese New Year could provide another reason to be excited by China in the next earnings report. Looking to much later in the year, a larger-screen iPhone is something that Asia's Apple fans would welcome with (very) outstretched hands.
(Source: TechCrunch)
(Editing by Josh Horwitz)