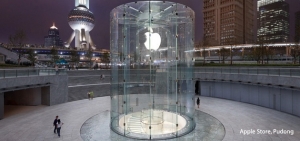 Apple (NASDAQ:AAPL) is getting it from all angles right now in China. Concerns about working conditions at Apple suppliers has led to the company requesting a Fair Labor investigation, the lost court case with Proview means iPads are being taken off store shelves and the import and export of iPads from China may be banned, and now Sina Tech is reporting that of the $500 sale price of an iPad, the people who actually made it — the Chinese workers — only get $8.
Of course, the hardware in an iPad isn't cheap, but it turns out that after hardware costs, Apple gets about $150 for every iPad sold. That's about 30 percent of the sale price, and it dwarfs the 1.6 percent that Chinese workers get.
In comparison, Korean hardware suppliers apparently take in about $34 for each iPad sold.
Of course, Apple's Chinese suppliers are still making money, and workers are not slaves — if they're unhappy with their wages they are generally free to leave. Still, though, a company that makes as much as Apple could push suppliers to pay workers better without risking much of anything. It just doesn't want to.
For more detail on how Apple profits break down, check out this post — with handy charts — from last December.
[Via Sina Tech]