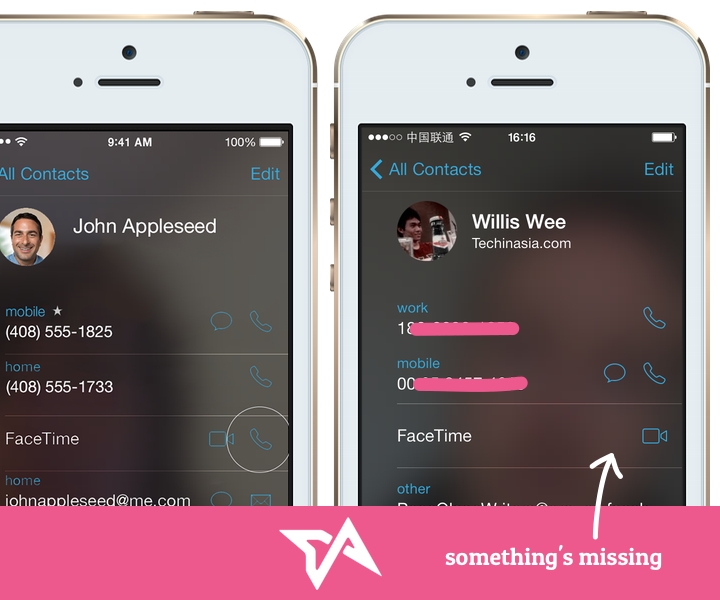 Apple's (NASDAQ:AAPL) FaceTime was updated with audio support in iOS 7, but a growing number of iPhone and iPad owners in China are realizing that they've been left out. Anyone who has bought a made-for-China iPhone 5s, 5c, or newest-gen iPad will find that they only get the option to make FaceTime video calls, with the audio ability nowhere to be seen.
The missing feature has been noted by a growing number of users of Apple's online forums. They've also found that someone who has one of these crippled iOS devices will not be able to receive FaceTime audio calls from people in other nations. Tech in Asia has confirmed this missing feature with made-for-China iPhone 5s, 5c, and new iPad models. This is the error message that pops up when a non-China model is making an audio-only call to such a crippled iOS device: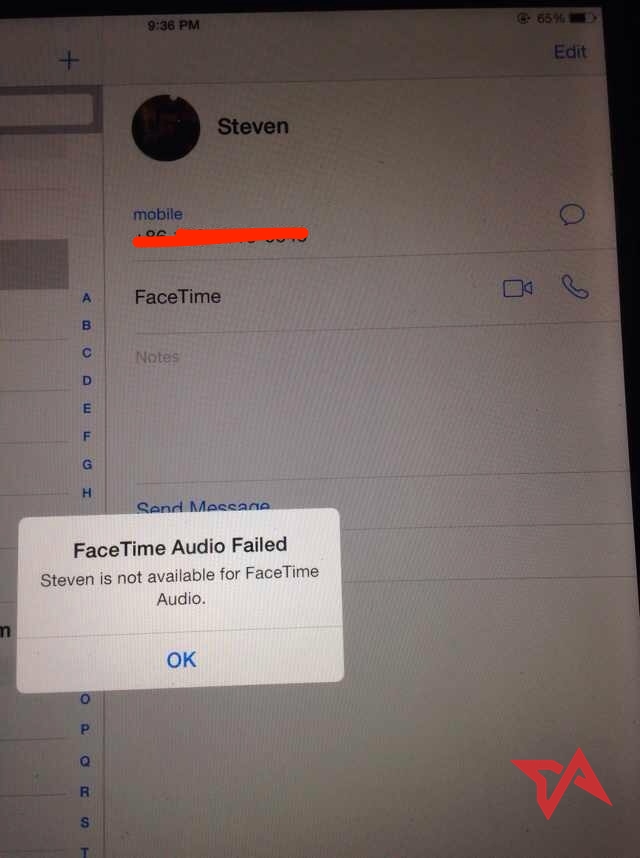 Has yours been silenced?
So what's going? Is your phone affected? If you bought your iOS gadget in mainland China from September 2013 onwards and it's not an import model, then yes you cannot do anything at all to enable FaceTime audio. Go into Settings > General > About and then look at your phone's model. If it ends with CH/A, then FaceTime Audio is disabled and you cannot make it work with an update or a different SIM. It's blocked wherever you are in the world.
This looks to be a sop to China's big three telcos, China Mobile, China Unicom, and China Telecom, in order to stop users making free online voice-only calls. But rival messaging services like WeChat do have audio-only online calls. We contacted Apple in the US and Hong Kong yesterday to ask why this is being done, but we've yet to get a response.
In fairness to Apple, its own Chinese 'built-in apps' product page makes no mention of audio in FaceTime. Some people who don't need the feature might never notice its omission. FaceTime video works fine on all devices, and of course it includes functioning audio.
This wouldn't be the first weird omission at the behest of China's oligarch carriers. The first iPhone to launch officially in China back in 2009 didn't even have wi-fi support.
Yes, this isn't news since it's been going on since September, but no-one had noticed it outside of the Apple forums. Consider this a PSA both to travelers and local Chinese: if you're in mainland China and want to buy an iOS gadget, don't do it. Go to Hong Kong where you'll get much better prices (thanks to no sales tax) and all the features you'd expect.
(Editing by Josh Horwitz)