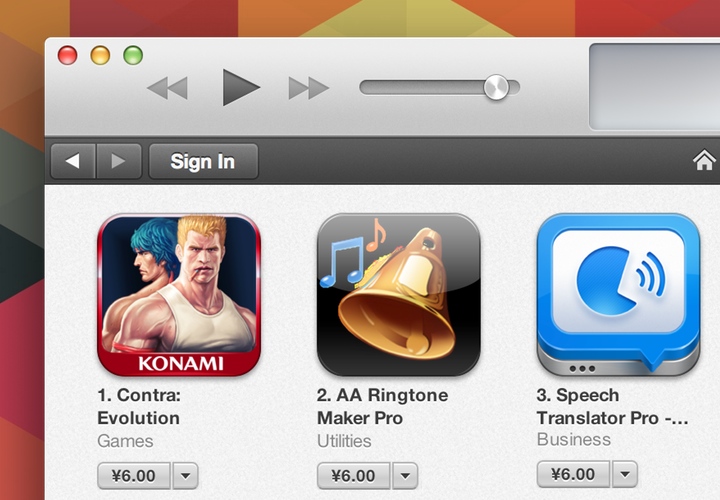 Apps – just like pork, rice, and everything else – are getting pricier in China. For the first time since Apple (NASDAQ:AAPL) launched Chinese currency payments in its iTunes App Store back in November 2011, iOS app prices will soon be pushed up, according to the Beijing Times.
The base app price of RMB 6 – equivalent to $0.99 apps in the US version of the App Store – will be nudged up to RMB 8 (which is actually $1.30). That's not exactly on a par. China's currency, the Renminbi, has made big gains over the dollar in the past few months, which resulted in RMB 6 being a little cheaper than Apple's $0.99 minimum app price (actually $0.97).
Here are how the app prices will look once the changes hit:
$0.99 apps go up from RMB 6 to RMB 8, as we just mentioned.
$1.99 apps remain the same at RMB 12
$2.99 apps remain the same at RMB 18
$3.99 apps go up from RMB 25 to RMB 28
$4.99 apps remain the same at RMB 30
So, the unchanged pricing levels give Chinese iOS users a better deal than folks in the US, while the modified app prices now look a bit excessive. For some reason Apple is sticking with even numbers rather than using, say, RMB 7 as the entry-level price. The Beijing Times, claims to have seen the price rises in effect over the weekend, but today the Chinese version of the App Store is using the old price structure; perhaps the price rises were being tested.
As we've seen with the popularity of the no-jailbreak-needed KuaiYong app in China, Apple is still having a tough time persuading its iPhone and iPad owners to pay up for apps. And that's despite fairly convenient billing via a wide variety of local bank cards.
(Source: Beijing Times cited by Marbridge Daily)
(Editing by Charlie Custer)