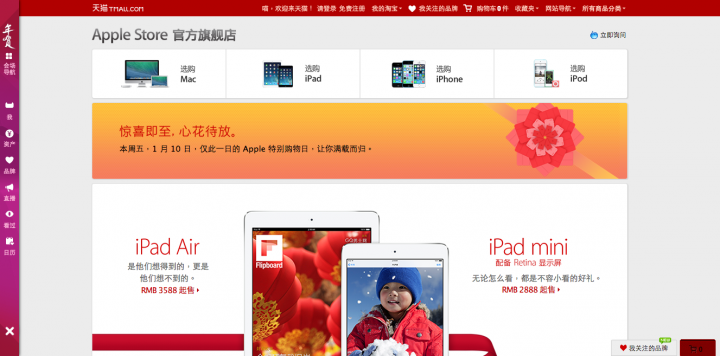 Apple has opened an official web store on Tmall, Alibaba's "online mall" for brands and big-name merchants, reports the Wall Street Journal.
Accessible at apple.tmall.com, the new online storefront marks Apple's first foray into setting up an e-store outside of its online Apple Store.
What's the significance here? For one thing, it's a sign that Apple is directly utilizing yet another sales channel through which it can reach Chinese consumers. Last December it finalized a massive deal with domestic telco China Mobile, and it will cut the ribbon at a shiny new Apple Store in Beijing on Friday.
But Tmall is a different animal. Apple tends to be conservative in regards to where and how it sells its products, working only with carriers and authorized resellers in addition to its official online and offline stores. Tmall isn't nearly the wild west of its sister site Taobao, and it's known to be a reputable place for Chinese users to buy goods online. But high-end luxury brands on the site tend to be anomalies. You can find the Tmall store for Adidas, Converse, Samsung and Xiaomi, for example, but Louis Vuitton or Burberry, from which Apple recently poached it's senior vice president of retail, are all sold through third-party shops on the website, rather than company-sanctioned e-stores.
This doesn't mean that Apple is now stepping into the realm of the unwashed masses in a desperate bid for RMB. It just means that whatever reservations Apple may have had in the past towards Tmall – whether they involved branding, costs (Tmall charges for space and takes commissions), or perceived lack of autonomy – now, for some reason, seem to have gone away.
Some analysts have noted that after Apple's deal with China Mobile, which will help make the iPhone more affordable for average consumers, Apple will have to find more creative ways to get its products into buyers' hands. With this in mind, the slightly uncharacteristic move to Tmall could mark an early manifestation of this.
It's not clear how the addition of a Tmall storefront might help Apple gain customers. When one enters "iphone5s" into the search bar on Tmall, most of the results take users to Tmall pages for local carriers selling the iPhone, along with a few resellers. On the other hand, Apple's personal stamp of approval could provide users with enough confidence to buy their new iPad on the same website where they buy their Adidas.
According to Canalys, Apple currently occupies six percent of China's smartphone market when measured for shipments during the August-September period. If you're eyeing the rankings, the same study places it at number five, behind Huawei, while Samsung sits at the throne.
(Source: WSJ)
(Editing by Steven Millward)