China looks set to have 300 million active Android smartphone users by the end of the year, which makes it a market that app developers badly want to tap. But Chinese consumers' aversion to Google's ecosystem means that dozens – perhaps hundreds – of Android app stores abound.
For non-Chinese app developers, that's an especially tricky situation, made murkier by a lack of understanding and the formidable language barrier. One new Beijing-based startup wants to turn this opportunity into a business. Startup Noodle's 'AppInChina' service is a subscription-based model that charges developers $999 for the full package that gets an app into 20 of China's top third-party Android app stores.
Abundant app stores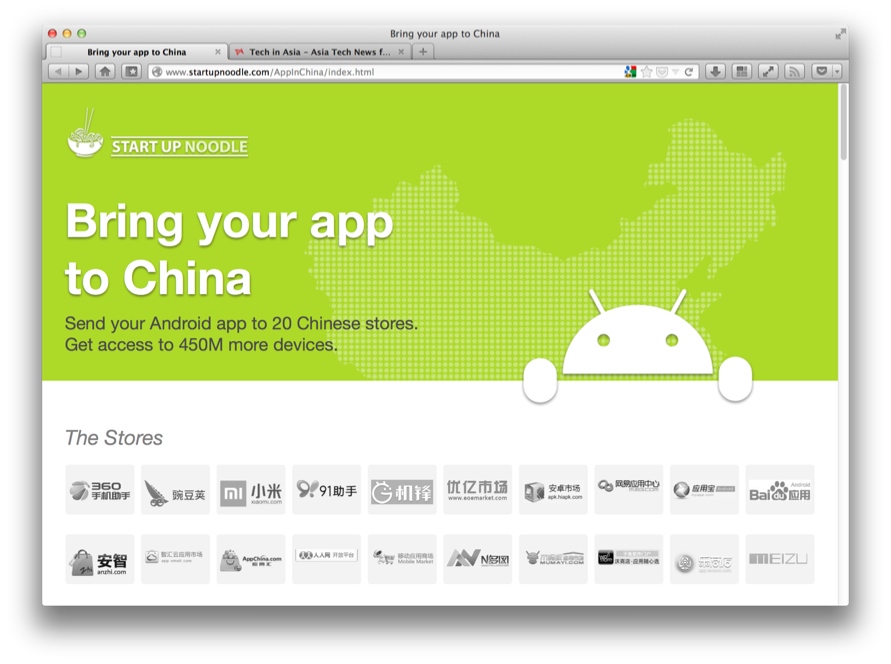 The man behind Startup Noodle and this new business is Israeli Shlomo Freund. The idea came from his pre-existing Startup Noodle blog and his work in Beijing's entrepreneurial community where he organizes Lean Startup meetups. That's where he encountered developers struggling to access China's smartphone users and thought that he could help out getting apps into all those stores.
Shlomo says it's not just about the language barrier, but also a matter of time. App developers simply don't have the time to register with lots of Chinese app stores and maintain their apps across all those separate logins. The AppInChina service publishes apps to 20 stores (with more in the pipeline) – including tops ones such as Wandoujia, AppChina, Qihoo's 360 App Store, and Baidu's newly acquired 91 Wireless.
The startup also covers other much needed resources, like translations of the app's description. In the future, this could grow to cover better app marketing, but it's mainly distribution for now, Shlomo points out.
Outrun the pirates
AppInChina launched at the beginning of this month and now has just under 10 subscribing app devs despite no promotion being done. The team of three people realise it'll take time for developers to trust the service, and that can build up over time.
While the startup doesn't offer app piracy protection, Shlomo comments:
The best way to fight piracy is to update [your app] often – outrun the pirates.
And, by extension, being present on all these Chinese app stores is also the best way to oust the fakers, some of which inject malware or spyware into pirated copies of popular apps. That's something we've seen overseas developers like Flipboard and Rovio do pretty well – be reflexive and pro-active in China, moving quicker than the pirates or the fakers.
(Editing by Anh-Minh Do)