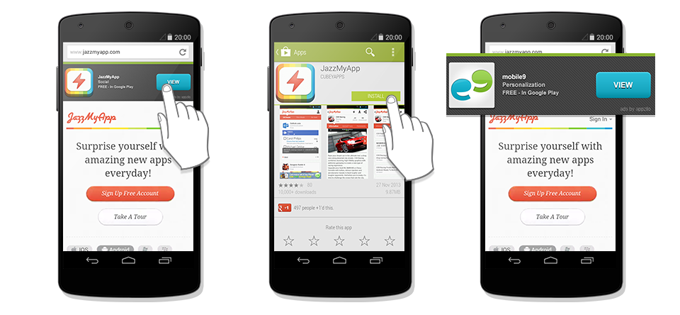 Any new app is greeted by tough competition in the mobile app space. To help out in this now mobile-centric era, Malaysia-based startup Appzilo launches a platform for app creators to promote their apps.
Simply put, Appzilo lets app developers advertise their apps through an allotted space in their website and convert those views into more users and revenue. It debuts with a service called the VIVA ad unit. Similar to smart app banners introduced by Apple in iOS 6, it consists of a small app advertisement displayed at the top of mobile websites.
When someone clicks the advert, it will open up the app's page in the app store if the app is not yet installed on a user's phone. But if the app is installed already, clicking on it will launch the app. Appzilo co-founder Patrick Ooi says:
VIVA ad unit extends the functionality of the smart app banners by using the space to promote other apps after the user installs the website's app. This offers incremental revenue for publishers and excellent visibility for app advertisers.
The creation of Appzilo is spin-off from the sponsored listings for app creators on Mobile9, a content downloading platform. Ooi says that AppZilo has more ad formats, support for multiple mobile operating systems and more robust analytics compared to sponsored listings.
While Appzilo is being marketed globally, he adds that Asia is a good market for them as it's "the largest market for apps in the world." It currently expects to see demand in countries like India, Indonesia, Japan, and Korea.
Appzilo works across iOS, Android, Windows Phone and BlackBerry operating systems.
(Editing by Steven Millward)