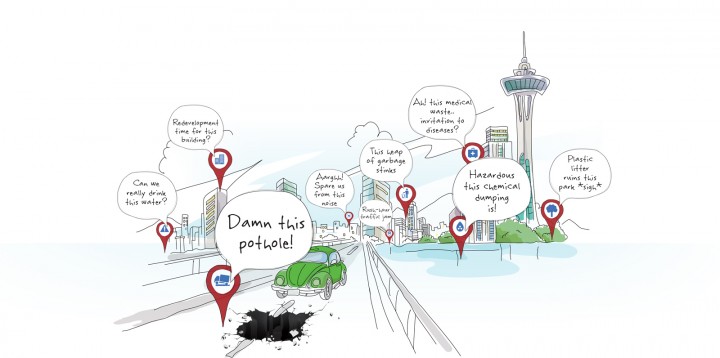 When I see litter accumulating on a street corner or a pothole in the road, it annoys me, but rarely do anything about it. I have to choose my battles in daily life and simply don't have time to solve all the world's little problems. I grit my teeth as I walk through the trash and hit the pothole, only to be reminded of it all over again the next time I pass by.
These things aren't my responsibility, but they are my problems, as I'm sure they are problems for other people around me. We lack a convenient way of taking action; many of us don't even know who to approach about it, and we leave the it for someone else to take care of.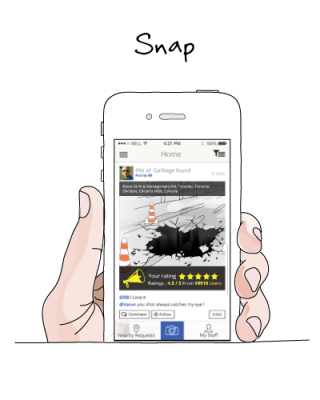 These are the kind of civic issues that UnMuted, a non-profit "voice-raising platform," hopes to solve. India-based Ahmedabad Global Shapers built the app. It works like a virtual complaint box. Just snap a photo of whatever you want to complain about, upload it with a short description, and pick a category.
The government agency responsible will receive the report via a dashboard that shows how many reports have been submitted, a map of where the issues are located, a list of pending issues, and graphs that break down reports by type. It saves time for both parties, as the government agencies don't have to spend as much time answering phone calls and keeping track of such information manually. Complains not addressed within a certain time period are automatically tagged again.
UnMuted is free and open source. It has an "agnostic" interface that makes it easy to use for people that don't speak English. On December 6, it launched worldwide.
The latest version only has less than 500 installs so far. It's still in the early stages, but UnMuted seems to have laid the groundwork for something that could make a real impact in communities around the world. As a non-profit, it won't have to worry about so much about profit margins like SocialCops, a Singapore-based civic startup doing pretty much the same thing in India. Indian urbanites also have non-profit startup Janaagraha, which covers a lot of the same ground but doesn't have an app. The toughest part will be bringing government entities, local news media, and volunteer organizations on board.
UnMuted is available on both iOS and Android.
(Editing by Steven Millward)