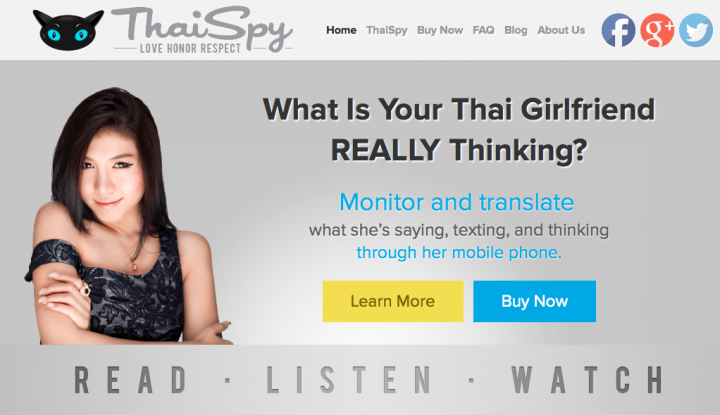 According to a survey by condom maker Durex, Thais rank at the top of the world's infidelity chart as the most unfaithful lovers, with well over half admitting to frequent infidelity. It's not a flattering reputation to have. So, being aware of the problem, a Thai company is offering a smartphone app to track your significant others' activities.
ThaiSpy is a cloud-based mobile monitoring tool for iOS, Android, and Blackberry that runs completely undetected, recording all data and audio communications, GPS locations, application usage, and web history.
One interesting feature is the ability to translate Thai messages that it captures from chat apps such as LINE, WhatsApp, WeChat and also Facebook, email and SMS into English. This feature is essential for gaining understanding when slangs, idioms and abbreviations are used. In addition, ThaiSpy also offers the ability to remotely listen in on a live phone call and is also able to open the device's microphone to hear what is happening in its immediate surroundings.
A company rep adds:
The data is always under the customers control. As soon as they delete a message, be it captured or translated, we remove it from our servers as we have no need for it, and we recover storage. The customer is provided the ability to download their data locally, so they have permanent records.
Is it legal?
Of course, acting as an NSA doesn't sound too legit. Here's how ThaiSpy explained it to Tech in Asia:
We don't listen to anything. The decision to use call interception is for the end user, and legality depends on context and geography. In the purchase agreement, we will be introducing a mandatory acceptance that the buyer does not use it illegally, meaning that the responsibility is squarely on the end user.
ThaiSpy is available for download or as a pre install on a smartphone or a tablet. What this means is that boyfriends can order a phone from the company and have it delivered to the girlfriend, making it a devious Trojan Horse.
Right now, the site only has the preinstalled phone price available, starting at $349. In the near future, the company will offer direct downloads starting from $149 per year. ThaiSpy also plans to introduce the software-only option for monthly payments of around $30. The promotion start this Christmas.
Focus on Thai men but the Philippines will also get it soon
Right now, the company's target audience is "Thai men who support several women" (WTF?!). But the company will soon release a version for the Philippines, as "there are many intercultural relationships there" where the human translation of instant messages and SMS could be beneficial.
Well, if the Durex poll is right, it seems like this startup is in the right type of business.
(Editing by Vanessa Tan and Terence Lee)