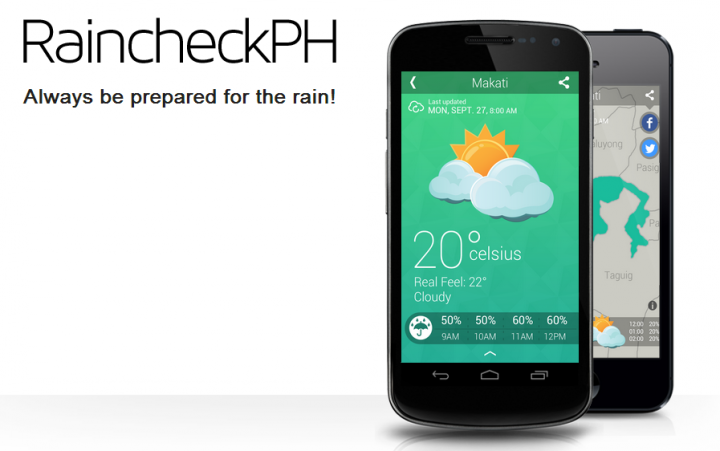 With natural disasters such a regular occurence in the Philippines, tech companies and startups have found it necessary to provide web- and app-based solutions to assist those in need when nature rears its ugly head. After super typhoon Haiyan hit last month , many disaster response tools have surfaced. One recent addition to the current roster of disaster response apps in the Philippines is RaincheckPH, a tool that helps Filipinos gear up and prepare for storms on the way.
Created by Voyager Innovations, the mobile development arm of telco Smart Communications, it taps on the available data from Project NOAH to provide users with rainfall predictions for a specific city or vicinity.
Project NOAH is a web application that serves as an early-warning tool for Filipinos. It provides weather reports, floods, and other disasters in the Philippines through collaboration with respective government agencies.
By tapping the available data from Project NOAH, an initiative of the Philippine government's Department of Science and Technology, RainCheckPH can make rainfall predictions with 95 percent accuracy.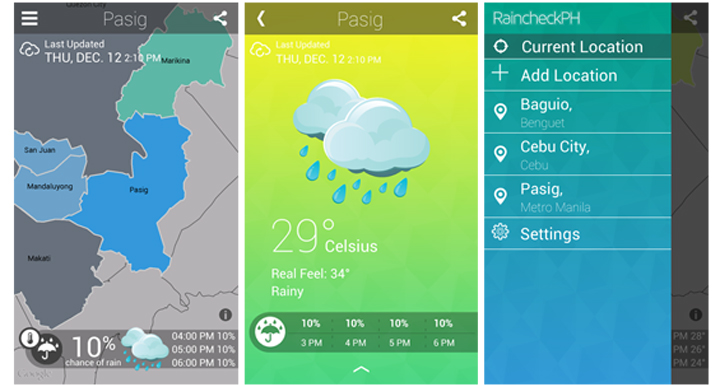 RainCheckPH currently covers around 70 cities in the country. The app also alerts users via pop-up notification whenever the probability of rain in their current location reaches 50 percent within the next four hours.
Real-time data on temperature, wind speeds, and a four-day weather forecast is also accessible to the users. It also has sharing functions for Facebook and Twitter.
Project NOAH executive director Mahar Lagmay said of the project in a tweet:
1/2 The rain check app,is NOAH's answer to the comment that the current NOAH app is difficult to operate. It is a progressive learning app.

— Mahar Lagmay (@nababaha) December 17, 2013
Plans in the pipeline include partnering with news site InterAksyon to provide class and work suspension information, and integrating a crowdsourcing feature in the app for users to also report areas with floods and other weather information.
RainCheck PH app is available for free on Android
(Source: InterAksyon)
(Editing by Josh Horwitz)