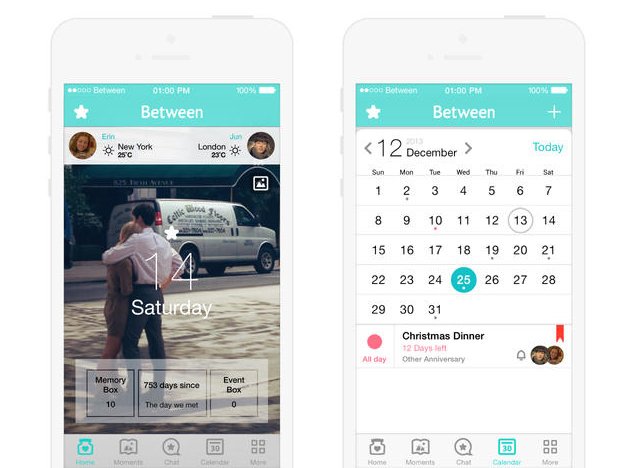 Between, an app for couples by Korean company VCNC, has raised an undisclosed amount of money from strategic investor DeNA (2432.T), a Japanese web services and gaming platform company.
The app is essentially a private digital space for couples to chat, share moments, and keep in touch. Similar apps to Between include Couple from the United States and LoveByte from Singapore.
The funds will help Between transit into an "open platform," which according to Joash Wee, general manager for VCNC in Singapore, involves in-app purchases with both physical and digital products from partners catering specifically for couples, similar to what popular chat app Line is doing. The feature will be rolled out in Korea first. Between has so far mainly monetized via selling digital stickers.
By the end of last year, the app hit the five million download mark (it doesn't reveal monthly active user figures). South Korea is its biggest market at 60 percent of registered users, while Japan is the second largest.
Version 2.0 was also launched last year, resulting in a two-fold increase in daily user acquisition and a rise in the amount of time spent on it per month per registered user from 300 minutes to 510 minutes.
Prior to this round of funding, VCNC raised US$3 million from Softbank Ventures Korea, KTB Network, and more.
(Editing by Paul Bischoff and Steven Millward)