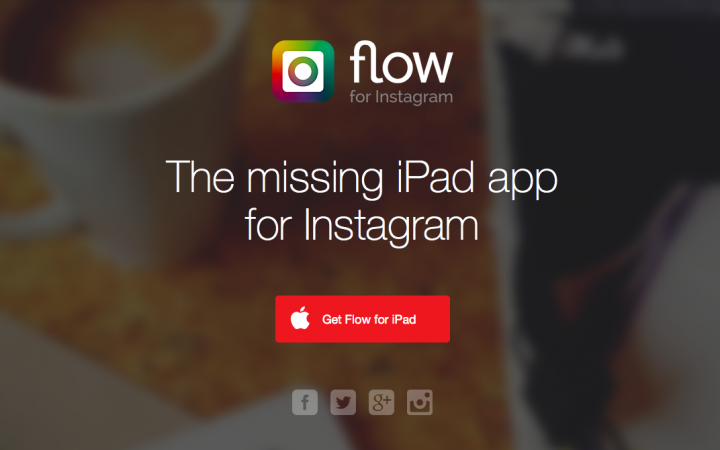 Instagram is big in Asia. It's even bigger in Thailand. The number one most Instagrammed spot in the world is Siam Paragon mall in Bangkok. However, Instagram has no dedicated iPad app despite the fact that many people enjoy skimming photos on their tablet. Seeing this as an opportunity, a startup based in Bangkok has launched Flow for Instagram today.
Flow for Instagram wants to fill the space left by Instagram's absence on the iPad. It's not the first attempt, of course, as it's quite similar to Instaflow or Padgram.
Although Instagram does not allow uploading photos via third-party apps, it's still possible to view photos and interact with them. Flow for Instagram allows users to look at images, like images, add comments, and stream Instagram videos on the larger iPad screen
"Perhaps it's because the iPad is mostly for viewing photos rather than taking photos? Perhaps they are trying to stop people looking silly holding up iPads taking photos everywhere. It will be interesting to see if they do release an app. We certainly feel there is a need for an app. Basically, we got bored of waiting for Instagram to develop a dedicated iPad app, so made one ourselves," says Luke Hubbard, the "creative hacker" behind Flow for Instagram.
Do we really need the bigger picture?
The Flow for Instagram team believes in enhancing an app's overall browsing experience. Flow for Instagram's main difference from the official Instagram app is that it lets users see a dozen photos at a time without any other distractions. Comments and profile pics are removed from the main feed, reducing clutter and drawing attention to the visuals.
The team wanted to build an app that felt like it could be comparable to the official Instagram app in terms of quality. In pursuit of this goal, they spent time making sure things were smooth and that photos and videos loaded as fast as possible.
The app also features some exclusive content, such as charts tracking popular users and tagged shops in a large list of countries. Hubbard says features have been popular among Thai users during tests.
Here's a video of Flow for Instagram:
The startup hopes it can hit one million users by the end of Q1 2014. Since Instagram is quite popular, the team believes there is a clear need for a good iPad app. Its goal is be the app people see when they search "Instagram" in the app store on an iPad.
In the future, when the app gets enough users, it will consider adding some premium features such as account switching.
The app is designed for iOS 7 but it works for those on iOS 6. It's now available for free on the iOS App Store.
(Editing by Steven Millward)