Today App Annie released its App Annie Market Index for Q3 2013, summarizing and analyzing the latest market trends for mobile app downloads.
On the Asia front, Taiwan took the spotlight as it moved up the rankings to occupy the number five spot in terms of Google Play revenues. The island trails behind Germany, the United States, South Korea, and Japan, respectively. Compared to the previous quarter, it's jumped up three places.
According to App Annie, 80 percent of said revenue comes from the Gaming category within in the Google Play store.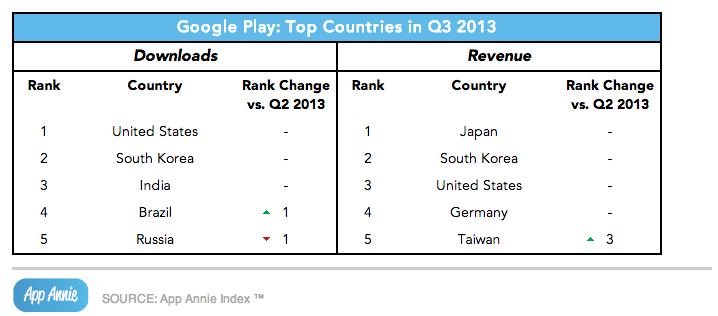 As App Annie notes, the strong revenues partially have to do with Taiwan's extremely high mobile internet penetration. 82 percent of the island's 28 mobile subscriptions have 3G capabilities.
But the real root of the jump likely lies in the Taiwan government's decision to lift the ban on paid apps. In June 2011, the Taipei City Government issued a lawsuit against Google and other app stores alleging that paid apps violate consumer protection laws. It demanded Google pay a NT 1 million fine (about $340,000) and begin implementing seven-day free trials for all apps requiring upfront transactions. Google immediately ceased the sale of paid apps on the island, but won the lawsuit in December 2012. Apps went back on the market in Google Play on March 1, 2013.
The news is significant because it confirms Taiwan as a gaming market to be taken seriously – in less than half a year it's already broke the top five threshold, and it seems that the re-emergence of paid games has contributed to its quick rise.
Gaming in Asia remains a hot market for consumers and investors alike. Japan's gaming market is estimated to be worth $4.6 billion, while South Korea's is estimated to contain $9.2 billion. Taiwan's relatively small population might mean its gaming market is worth less than its East Asian neighbors, but its residents are just as well-wired and equally willing to spend.
(Source: App Annie)
(Thumbnail image via Flickr user _fish_at_taipei_)