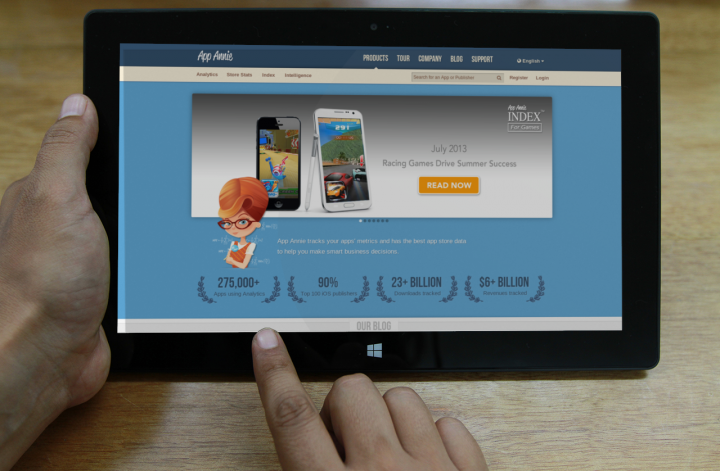 Data analytics tool App Annie today announced it has closed a $15 million funding round. The series C round was led by Sequoia Capital's US fund, which included participation from IDG Capital Partners, Greycroft Partners, e.Ventures, and Infinity Ventures Partners. The latest round follows up the series B round completed in August 2012 led by Greycroft Partners, which brought in around $6 million for the Beijing-based startup.
According to App Annie, there has been an "explosive demand" for its business intelligence platform, with the user-base doubling and monthly recurring revenues tripling in the past year. The new money will be channeled into product development, on top of boosting its sales and marketing efforts in San Francisco. It will also be expanding its global offices across Asia and Europe.
Tim Lee (a partner at Sequoia Capital's Silicon Valley office) and Alan Gould (CEO of uSamp) will sit on App Annie's board of directors. The VP of App Annie worldwide corporate communications, Marcos Sanchez, explains more on the relationship they will be having with Sequoia Capital:
In terms of the partnership with Sequoia, really this reflects the fact that we chose them to lead this round because they have a great history, a portfolio that reads like a who's who of the industry, and the knowledge and expertise in-house to help advise us moving forward. With Tim Lee as a board member, we bring on an experienced and very smart guy who's not only done great stuff at Google, but led investments like Evernote and Admob.

When we talk about expanding our platform, we're talking about how we can create greater depth and breadth to our offerings, with more types of data and deeper analytics. It's about creating an offering that our customers can use to not only extract important insights, but make better decisions based on them.
Shaking up app analytics
CEO Bertrand Schmitt (pictured right with his founding team) believes the company is headed in the right direction, and has "reinvented the way companies analyzed and extracted useful insights for business use". He adds:
While we could have easily raised a larger round, our efficient business model gave us the flexibility to take less, which is a testament to our products and the team we've built. For us, Sequoia Capital is not only an investor, but also a partner and advisor that will help us accelerate our plans to expand our platform so that all companies can understand the global app and digital content ecosystem.
Marcos also added that the company is keeping an eye on new areas for business development in Asia:
We plan on growing all our offices, that includes Beijing, Tokyo, and Seoul in Asia. Demand is high, and we want to have the resources to grow our market share accordingly. Seoul is our newest office, and we've seen very strong demand from that market, so as that grows, we will grow our presence there. We're also keeping an eye on new areas for business development, and where it make sense, we're absolutely open to opening an office. Asia is an important region for us, not just because we started there, but because there are a ton of opportunities.
(Editing by Paul Bischoff, Steven Millward, and Anh-Minh Do)