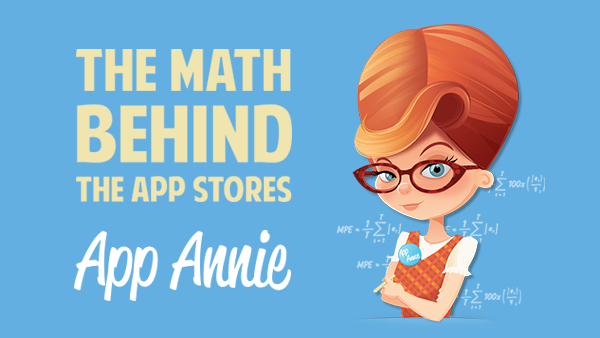 If you ask what's a startup to watch here in China, I gotta admit App Annie is one of the first that comes to mind. It is probably one of the few companies founded in Beijing by a group of expatriates that has yielded impressive results, and gone global within three years. In fact, my colleague Paul and I were at the China-Axlr8r's Beijing 10×10 event, where one of the speakers shared in his slides that many of us might not even realize that App Annie first started in Beijing.
We all know simply starting a business isn't a bed of roses, never mind navigating China and getting it out into the international market. So how did App Annie do it? We spoke to the company's VP of marketing, Oliver Lo, who is part of the founding team at the mobile app data company.
Tell us a bit about how the company has developed since it opened up shop in 2010?
Oliver: Our vision at App Annie has always been to create the ultimate business analytics and intelligence platform for executives in the apps and digital goods industry. We launched the first free store analytics product of its kind and have been very aggressive with our freemium business model, offering most of our services completely for free. As you can see from our milestones below (see addendum), the direction of our growth has been to launch more products and features across all the commercially viable app stores. We've also opened new offices in all the regions where our customers exist so that we can provide a truly global service with local experts, in terms of analysts and customer success managers.
What were the major challenges?
Oliver: I think most entrepreneurs always find scaling the biggest challenge and the area where you need to invest the most in order to succeed. This takes place in a few ways: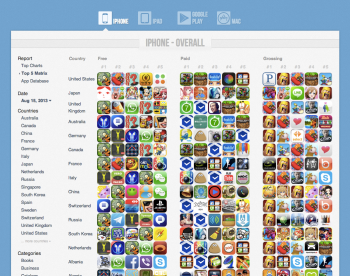 First, scalable technology is of utmost importance to us at App Annie. As a data company, you sometimes [have] to pick between launching new features versus scaling your platform. And even when the temptation is to go with a new feature every time (because of the instant gratification you get as a product manager for launching a new feature to users), we've invested a significant amount of our resources to make sure we have a scalable platform, best-in-class technology, excellent performance, and the most rigid security within our space.
Second, scaling quality talent is tough wherever you are. We've opened up offices all over the world to make sure we can get the best talent wherever they are. However, I'd say sourcing talent at high quality and sufficient velocity has been our biggest challenge. The one or two times we've ever lowered our bar, we've instantly regretted it, and so we've kept that bar high, which in some cases can mean we're wading through a lot of candidates before making a hire. For some positions we have as high as a 200 to 1 candidate-to-hire ratio.
Third, scaling infrastructure and process is vital. When you're a 10-person startup, you're unstructured and nimble, and it works well because you all sit in this one room making products and high-fiving each other when you ship something. By the time you're 100 people across three continents, you need to have developed efficient working processes, team responsibilities, IT infrastructure, project management tools, and HR benefits amongst other things. And you know that if you don't invest in these things, your business's growth cannot accelerate. We've made larger investments here than most, partly because we're a global startup and rely on global infrastructure.
How did the team overcome setbacks and challenges?
Oliver: I think we've been relatively fortunate compared to most high-growth companies – our growth has been fairly straightforward because we hit the right space, early on, when there was a clear demand for our products. I'd say the biggest challenges and setbacks have always been in hiring. There were some positions early on where we missed out on candidates or were recruiting for a role for many many months. Outside of the business itself, recruiting has been one of the most important things we've focused on. And now we've built a much more scalable hiring infrastructure – but early on, yes it was real tough.
So the success behind App Annie and its rapid expansion efforts is getting it right in scalable technology, quality talent, and infrastructure?
Oliver: Building and designing the right product for the right audience with the right business model is the "what" that comes at the beginning. It defines the vision and mission of the company. Scaling technology, talent, and infrastructure is the "how you make that business actually successful in the real world". And I'd multiply all of that by having a great company culture. There are a lot of big companies that have a very corporate definition of what this is and what it does. We prefer to think of it as simply the "personality" of the company both internally and externally. And employees are more or less attracted to companies based on their personality – they are also more or less productive within a company based on that personality. Imbuing App Annie with an honest, forward-thinking, data-driven, and design-focused culture is an important piece of infrastructure in of itself.
App Annie's data has become a reference point for many people in the industry. How did you go about making that happen?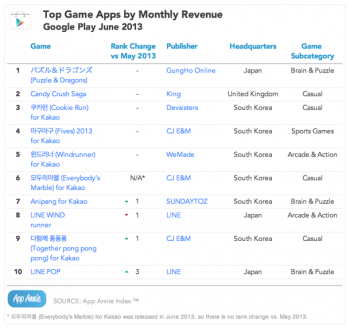 Oliver: Yes, our belief is that for any company trading in market data, becoming a reference point within the industry should be your main goal. We've really gone out and made sure that the most influential people in the space are using App Annie. The largest companies are using App Annie's products, 90 percent of the top 100 publishers including the likes of Disney, EA, Google, and Zynga. [Most of the] world's media rely on App Annie's data to substantiate news stories – when we release app economy trends, we're getting as much as 70-80 pieces of coverage from the media, including the likes of Forbes, Techcrunch, TNW, The Guardian and of course Tech in Asia (Vanessa's note: Thank you Ollie!).
And to do that, you need to provide accuracy and consistency on a bedrock of trust and objectivity. The App Annie Index has been at the cornerstone of this. We almost see it as the modern-day app equivalent of the Nielsen TV Ratings, and it's great when we see some of the biggest publishers out there like GungHo Online, Supercell, and Electronic Arts use the Index rankings as a point of reference.
Why did you guys choose the freemium model, and how did it help App Annie achieve what it is today?
Oliver: The freemium business model is at the core of how we think at App Annie and has been crucial to our success. And the leading B2B Software-as-a-Service (SaaS) companies today are demonstrating that freemium is just as effective in B2B as it has been in B2C. When AppAnnie.com was launched in March 2010, it offered the first fully free store analytics tool for app publishers, combined with the most complete rankings database to analyze the marketplace. At that time, there was a dearth of quality tools out there. I was actually at Zynga back then and had just joined the Zynga mobile team. App Annie was the first tool that they recommended to me to get signed up on, and it was completely free, so that was the first thing I did.
Since then, the freemium model has allowed us to get just about everyone in the industry using that product with virtually no paid marketing. 90 percent of the top 100 publishers by worldwide revenue are using an App Annie product, and I think that's more than can be said of virtually any other app analytics tool out there. I remember back last year when the press were just discovering us. I'd get many emails from top tier journalists saying "just about every VC and app developer I talk to raves on about how they swear by App Annie – who the heck are you guys?"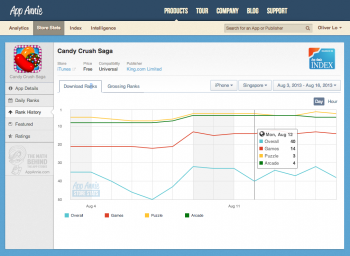 Ubiquity is a powerful tool in of itself, and is important when you are building an analytics platform for the entire industry to use. And everything from our freemium business model to our App Annie Index and our global team is designed to spread the ubiquity of App Annie data.
I tend to forget that App Annie started in Beijing. How did you manage the branding of the company?
Oliver: We're a pretty unique and international company in that App Annie was founded by a bunch of European entrepreneurs but in Beijing, leveraging Chinese technical talent. Whereas most startups in China have focused on "The China Market", which is no doubt a massive market for B2C, we were focused from day one on the global B2B market. From the start and until today, it has been companies from United States and Japan that have really driven the demand for market data in the apps space, so it was clear that we needed – not a US brand, not a Chinese brand, and not a Japanese brand – but a truly international brand that everyone in the global app industry from app developers to app investors could trust and identify with. Of all the companies I've been at, App Annie really is a company with international DNA. With just 100 people, we already have something like 18 nationalities across six global offices.
The people who are responsible for analyzing and interpreting data within companies are becoming increasingly influential in today's business world. A lot of data companies out there focus on the classic "we process X terabytes of data every minute". Whilst that's not unimportant, we prefer to focus on what our customers are really looking for – that's easy-to-use, unintimidating, well-designed and high quality analytics products. We like to think of Annie as really representing a lot of that. She's the ultimate data geek, but she is by no means intimidating. Moreover she makes complex data sets simple and does all the work for you, turning data into insights that are actually practical and useful. As our own products become more and more advanced, our designers will always ensure that App Annie dashboards stay simple and to the point.
I understand that App Annie started in Beijing, but is now dual-headquartered in Beijing and San Francisco. When did that exactly happen?
Oliver: Yes, so we started App Annie in Beijing where we were able to leverage the high quality and deep engineering talent pool available in China. We knew that the pool was already very good, and we bet that it would continue to improve over time, which it has.
In August 2012, we decided to open a San Francisco office as our global sales and marketing headquarters, with Beijing serving as research and development (R&D) headquarters. For us, it's about leveraging the best of both worlds. San Francisco is where the technology industry meets, meaning most of our customers are there as are many of the top tier media outlets who are interested in App Annie's data. However, the competition for talent in the Bay Area is incredibly fierce and the prices for that talent are well in excess of other global cities. Beijing, on the other hand, is very different. It's a massive tech hub for East Asia and growing in stature – the engineering talent pool is deep and very high in quality – no wonder many of the large tech companies like Microsoft, Glu Mobile, Electronic Arts, Zynga, and Google all have significant R&D bases in China.
The decision of starting in Beijing was to leverage on the technical talent? In other words, you would like to build and make sure that the "technical foundation" was right, before getting aggressive with sales and marketing?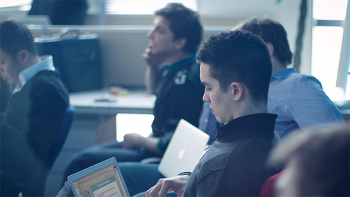 Oliver: Yes, that was one of the main reasons for setting up product development in Beijing. App Annie is first and foremost a product and technology company. The first 18 months of App Annie was really spent focused on building out the product suite and making sure we had the best product in the market by a long way – everything from usability to quality of market data. As soon as that foundation was set, we began to ramp up sales and marketing, which is right about the time that we opened a San Francisco office and raised a second round of funding. Since then, the nucleus of the company has been along that San Francisco-Beijing bridge (so somewhere right in the middle of the Pacific Ocean). And I think those two cities between them, hold some of the best tech industry talent out there in the world.
App Annie currently has offices in Beijing, San Francisco, Tokyo, Hong Kong, Seoul, and London. Are you guys looking to expand to Southeast Asia anytime soon?
Oliver: Yes, it's a lot of offices for a 100-person company. We sometimes joke that we're kind of a mini-multinational company already. Southeast Asia is an interesting place – not only is the app economy growing very fast, but the talent resources in that region are very interesting for App Annie. We are definitely looking at international marketing and design talent in places like Hong Kong and Singapore. We already have quite a few people from Singapore and Hong Kong at App Annie, so a few more can't hurt!
Are you guys looking to set up an office here in Singapore?
Oliver: We don't have any plans to open a Singapore office, but we are looking at the talent pool in Singapore. Singaporeans are a smart, well-educated bunch, and they're usually bilingual too. We already have two Singaporeans in the company, so wouldn't mind some more! Plus there is a lot of international talent in Singapore too.
What were the backgrounds of the Exoweb people? Are they still in the company?
Oliver: Exoweb was a software development company in Beijing, founded by Bjorn Stabell, a European entrepreneur in China. App Annie was initially a side project within Exoweb that Bjorn Stabell started, and brought in Bertrand Schmitt to lead its development and spin off as a separate company. Bertrand's 12 years of expertise with web and mobile companies, including 5 years in analytics, provided that boost to take the project to the next level with a unique freemium business model. As that project grew in stature, Bertrand then founded a separate entity to develop the App Annie project into a real company, later raising a first round of funding from IDG Capital Partners. Bjorn remains involved in App Annie as a shareholder, board member, and trusted friend of the company.
Who is in the founding team?
Oliver: Bertrand Schmitt is the CEO and founder of App Annie. The other early members, including the executive team (pictured above) of Lylian Kieffer (EVP Engineering), Oliver Lo (EVP Marketing), Marshall Nu (CFO/COO), and Nicolas Beraudo (EVP Sales) all remain with the company. We're all in this together, are excited by where we've got to and even more excited by the mission of growing a next generation data company.
So what's next for App Annie?
Oliver: Well, we're focused on two things right now – continuing to launch more features for the App Annie platform and hiring more talented people, particularly in San Francisco and Asia. We've already had eight product launches this year, and we've got many more big ones to come – certainly you folks at Tech In Asia will be among the first to hear about them (Vanessa's note: Awww, thank you again, Ollie!).
And we're looking for all kinds of talent – digital marketing folk, product managers, designers, engineers, data scientists, HR people. It's an exciting time for us and we just hope we can find the right people to take that journey with us. We're hiring globally, so let all your friends know that there are awesome jobs available at App Annie!
Addendum: AppAnnie's Timeline, by Oliver Lo
March 2010: Officially launched AppAnnie.com with Analytics and Store Stats products for the App Store and Mac Store. 30,000 apps were using Analytics within a year of launch.
May 2011: We raised our first round of funding, with $1 million series A investment from IDG Capital Partners. We grew the team to a whopping 6 people!
January 2012: We launched our premium Intelligence product, offering the most accurate app store market data available. We also gave Annie a facelift, ditching the spandex for geeky glasses.
February 2012: We launched Google Play public beta support across our three products. By now we had 100,000 apps using Analytics. We also partnered with IDC to deliver a quarterly portable gaming report that showed how mobile games are reshaping the industry.
August 2012: We raised a second round of funding, with a $6 million series B investment led by Greycroft Partners and participation from e.ventures, Infinity Venture Partners, Kii Capital, Jarl Mohn, and IDG Capital Partners. We also opened a new office in San Francisco, which became our global sales and marketing headquarters.
Dec 2012: We launched the App Annie Index, which quickly became the point of reference for commercial success on the app stores. Every month, the Index is quoted in every business media outlet from WSJ and Bloomberg, to Techcrunch and AdAge. There were 175,000 apps using Analytics and we opened offices in London and Tokyo to keep up with demand in Europe and Japan.
Spring 2013: We launched support for the Amazon Appstore, Windows 8 Store. We also launched AppAnnie.com in Chinese, Japanese, Korean, and Russian.
Summer 2013: We took App Annie's product suite to the next level with the launch of Intelligence Web and Visualization, as well as a mobile app for App Annie Analytics. There were 275,000 apps worldwide using App Annie Analytics.
August 2013 (Present): Today, we have over 100 App Anniers and counting across Beijing, San Francisco, Hong Kong, London, Tokyo, and Seoul. More than 90 percent of the top 100 publishers by revenue are using an App Annie product.
Oliver: Since we launched our Intelligence product, revenues have grown exponentially every year with most of the top companies in the industry using our free and premium products. And we have been careful to grow sustainably from the start – many internet startups take huge risks with their growth. We've been aggressive enough to lead the industry, without risking the health of the company.
(Editing by Charlie Custer, Paul Bischoff, Anh-Minh Do, and Steven Millward)