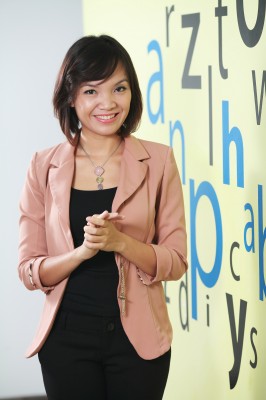 Anphabe is a Vietnamese version of LinkedIn. The largest online network of management professionals in Vietnam at 85,000 registered users, the website also hosts events, a forum, and helps with headhunting for local companies. Anphabe recently received an investment from Recruit Global Incubation Partners. What's also interesting about this platform is that it's started by Thanh Nguyen, part of a really small pool of female tech founders in Vietnam.
Entrepreneur, marketer, TV host, mother
Thanh graduated from Hanoi Foreign Trade University in 1997 and became one of very few people to pass the first Management Trainee recruitment programs of Unilever Vietnam for Hanoi's top fresh graduates. Then she moved to Ho Chi Minh City and worked at Unilever for seven years as a marketer, including three years based in Bangkok to manage three Unilever regional brands in five Southeast Asian countries.
In 2007, she returned to Vietnam and started a corporate-backed venture, Caravat.com, which is Vietnam's first job portal with networking features, specializing in executive jobs in the $1,000+ per month category. This arrangement between Thanh and Caravat's mother company Navigos Group, a leading HR service provider in Vietnam, lasted for more than three years before she moved on again to start Anphabe in early 2011.
In addition to Anphabe, she's also an editor and a host of the Share to Success TV show on FBNC, a domestic finance and economics channel, for the last two years.
Thanh is married and is a mother of two girls. Balancing time and effort for work and personal life is a constant trial for her, but she believes in wholeheartedly loving her family and fulfilling her personal passion, and striking a balance between both of them.
Thanh's startup and her role
Anphabe is a pioneering agency in Vietnam providing integrated Employer Branding (EB) solutions for big companies, which involves making her clients more attractive to employees. Under Anphabe's umbrella is Anphabe.com, which also serves as a valuable database and channel for many of the company's employer branding activities.
The name 'Anphabe' is a Vietnamese word for the alphabet. It reflects the company's philosophy: "Like 26 letters of the alphabet creating a whole world of language, 26 good connections through Anphabe can connect you to the whole world of opportunities."
So what does she actually do on a day-to-day basis?
Legally, she's the founder, chairwoman and CEO of Anphabe JSC, but her business card names her the Chief Opportunity Connector. Thanh says the title actually explains who she really is. She also defines her role of CEO as the Chief Energy Officer, which involves encouraging and creating energy for her team to work smarter and achieve better results everyday. She says:
By nature, I'm a true networker who loves connecting people and information and it feels great to see people get something out of my connections. So I initially created Anphabe.com with a big vision of helping millions of professionals in Vietnam to be more successful through connecting them with other professionals and leveraging that to progress in their careers.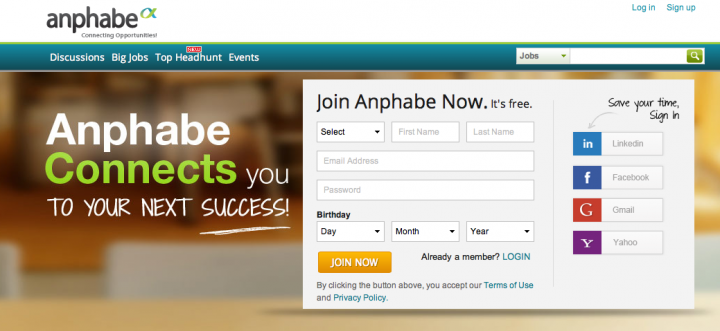 Here are more of Thanh's thoughts on being a tech founder in Vietnam, in her own words:
Why become an entrepreneur?
Thanh: I am emulating Steve Jobs, who said that he was "connecting the dots" at Apple, by being a pioneer marketing agency providing HR services for big companies on Employer Branding solutions. I decided to be an entrepreneur because it is my passion. I feel that I am truly myself. And the deeper reason is that I started to feel that I have enough courage to be fully responsible for that decision.
What challenges did you face in particular?
Like other startups, we faced the problem of an unclear business model during the initial phase; tight cash flow; lack of talents who want to work for small startups; lack of initial trust from clients, etc. And another particular challenge is that I am the rare non-tech woman who dares to start a tech business in Vietnam today. In spite of these hindrances, I have to think about how to understand them, motivate them, and work especially harder on balancing my personal life to fit the dynamics of the startup.
In general, it's harder for a woman to succeed in business compared to men, especially when you live in Asia. Women have an extra big role to play in the family as a wife, a mother, a peace-maker, and a budget controller. You have to live up to that persona as well as social expectations before you throw yourself into the role of a business woman to be really successful and happy.
Because of the aforementioned reasons, women need to work harder, try to manage things tighter and prove themselves more in male-dominant world. Those can be considered disadvantages. However, when you can overcome a certain level of that and can get the social acceptance that you are now a working woman, you do have certain advantages too: better communication and interpersonal skills, more hand-on experience, and a more personal and caring leadership style.
I'm always proud to be a woman and a working woman. From time to time, people have questioned my ways of working and living, but honestly I don't feel that's a discrimination. It's just different people making different choices. It's important that you recognize the different views, reflect on them, then move on with your own ways.
For instance, I started going back to work very soon after my child delivery and many of my friends thought I was a bit irresponsible to my kids; or when I started my previous business, Caravat.com, some bloggers wrote that as a woman without an IT background, I can't succeed in this area. Rather than discouraging me, those views gave me more strength to follow my path.
How do you seek out relevant mentors and people for help?
I seek out mentoring from whoever I admire, whether they're business persons, entrepreneurs, artists or even just housewives. Because in them I see certain qualities that I haven't got. They have built and achieved certain things I aspire to or they have handled certain tough situations that I still struggle to deal with.
With this philosophy, I therefore have quite many mentors because I seek them out very often. I'm open with them about my difficulties and humble enough to ask for help. You never know how much help you can get when you dare to ask for it.
In your opinion, what are the necessary skillsets and attitudes required to succeed in the technology and startup industry?
This is not exclusively in technology industry but everywhere: if we desire to succeed in business, we should create meaningful and useful products or services for customers first and relentlessly satisfy their needs. I believe it is the gospel truth of success in every business. In other words, we should be customer-oriented all the time. Also, day-by-day, love what you do and do what you love.
Who are the female role models that you look up to?
Just to name a few : Madam Ha Thu Thanh, CEO of Deloitte Vietnam, and the only female CEO of Deloitte in all 161 countries. There's also Miss Nguyen Thi Kim Oanh, owner of the successful Wrap and Roll restaurant chain.
Any advice for fellow female entrepreneurs?
I think in order to succeed, female entrepreneurs require certain male qualities. We need to think decisively, act fast and sometimes, make tough choices. However it's very important that you never lose your femininity – your female beauty, charisma, womanly charm, and elegance.
Anything else to add?
I'm aware that technology still remains a lucrative and high potential industry in Vietnam and I hope there will be many female entrepreneurs who will succeed in this sector in the future.
See more interviews in our Female Entrepreneurship series: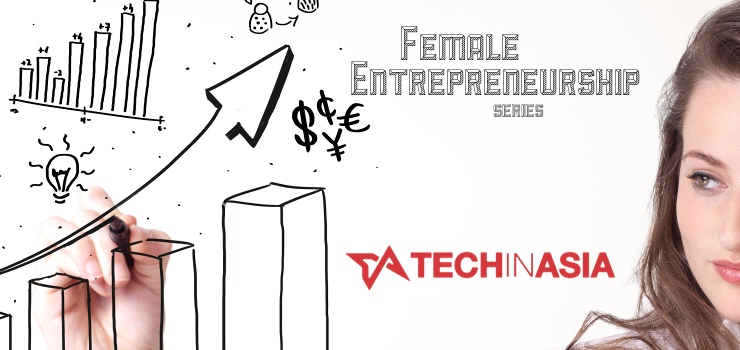 (Editing by Terence Lee)