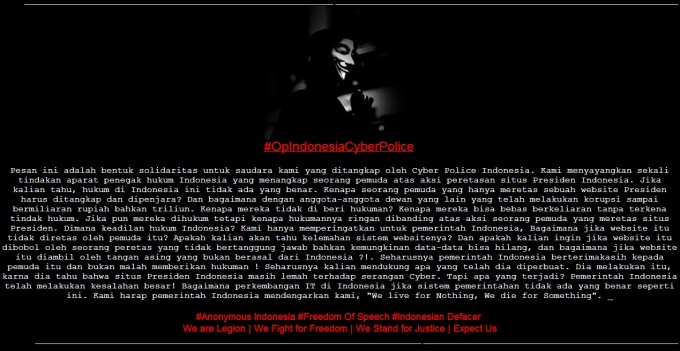 While Indonesia was sound asleep last night, a group of Indonesian hackers who call themselves Anonymous Indonesia were waging a silent war with at least seven notable government domains, which they crippled and/or defaced. This follows the hackers' protest which we mentioned yesterday, a response to the arrest of hacker Wildan Yani Ashari a few days ago.
Included among the ".go.id" domains that were hacked are the Business Competition Supervisory Commission (KPPU), the Central Statistics Agency (BPS), the Indonesian Embassy of Tashkent, the Ministry of Law and Human Rights, they Ministry of Social Affairs, the Ministry of Tourism and Creative Economy, and lastly Indonesia.go.id. While the others are now okay, as of now, the latter website is still inaccessible. And there are still other government websites which were also hacked and still remain inacessible now.
The Anonymous Indonesia group who hacked the sites was confirmed by Detik as unrelated to the global Anonymous group. You can read their reasons for those attacks on Scriptgratis.org (pictured above). There are three main points mentioned there, which I'll paraphrase below:
This particular message is made in solidarity with Wildan Yani Ashari.
It calls into question the Indonesian government's legal system. It underlines the many corrupt officials who have made billions or even trillions of rupiahs. Many who are still lurking free, despite being charged, their sentences were never as harsh as Wildan's.
It brings up a security issue, what if the site were hacked by somebody more dangerous? The government should be thanking and supporting Wildan for pointing out weaknesses in its security.
Detik cites the Indonesia Security Incident Response Team on Internet Infrastructure (Id-SIRTII) vice chairman today as saying that Wildan and the other local hackers have not made any significant damage so far. Wildan himself is facing a maximum sentence of 12 years imprisonment and a maximum fine of IDR 12 billion (US$1.2 million), which in my view is disproportionately excessive to say the least.
You can check further updates about the other websites that have been hacked from Anonymous Indonesia's Twitter account @anon_indonesia. Below is a tweet from what looks to be one of its affiliates.
(Sources: Kompas #1, #2, and Detik)
Government of Indonesia, you cannot arrest an idea NO ARMY CAN STOP US #Anonymous #OpFreeWildan #FreeAnon twitter.com/An0nPun1shm3nt…

— An0nPun1shm3nt 404 (@An0nPun1shm3nt) January 29, 2013