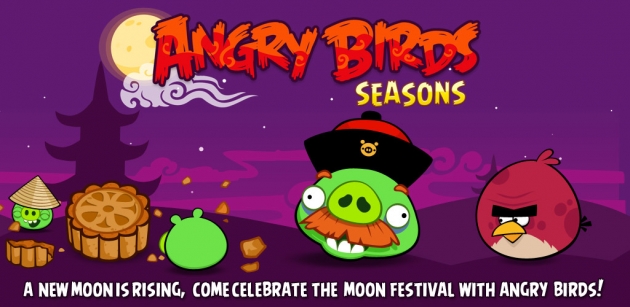 We just received a quick note from Rovio to say that it has finally introduced its Moon Festival theme for Angry Birds Seasons. Rovio explains that this is its first effort at connecting with Chinese fans, though there will be more to come for China in the future.
The app description reads as follows:
It's September and the moon is full and high as the Angry Birds head to China for the mooncake festival! The 3000-year-old harvest festival is one of the most important Chinese holidays, and the pigs think they can hide themselves in the midst of all the celebrations. Help the Angry Birds as they chase the pigs through 30 brand new levels filled with pagodas, rabbits, and red lanterns, lit by a dazzling harvest moon.
The game features a special mooncake level, as well as eight hidden pieces of mooncake to collect. There are lots of other special 'China' touches, such as red lanterns, pagodas on the horizon, Chinese-style hats, and a dark Beijing sky (just kidding on that last one!).
To get an idea of what the new theme looks like for yourself, you can get it now from the app store for 99 cents. Or scroll on down to check out some of the screenshots that we received from Rovio. There's also a video promo below.