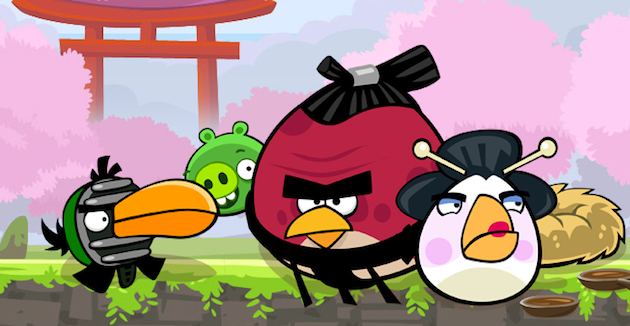 Ever since Rovio chose to celebrate its 2nd birthday in Japan, it was expected that a Japanese version of Angry Birds Seasons was in the works. The game developer just yesterday pushed out a cherry blossom festival update for the title for both Android and iOS. Rovio also partnered with Japan's Fuji TV to bring Angry Birds to many new fans via the Fuji TV website at angrybirds.fujitv.co.jp.
I gave the game a try in the browser at the Fuji TV site and I liked it a lot. The cherry blossom theme, Mount Fuji backdrop, food items like norimaki or onigiri, and Japan-theme costumes costumes of the birds were all lots of fun. The pigs even appear to have been influenced by Japanese architecture when building their little wooden forts.
So after going to China and Japan, where are the Angry Birds going next? It looks like space is the next frontier, coming on March 22nd if this tweet from @AngryBirds is to be trusted. And apparently Rovio has another special announcement coming in about an hour or so at 3pm GTM. I'll try and update this post as soon as I hear about it.
Update: It looks like the announcement was Angry Birds Space after all. But they made the announcement in space, with some help from NASA!