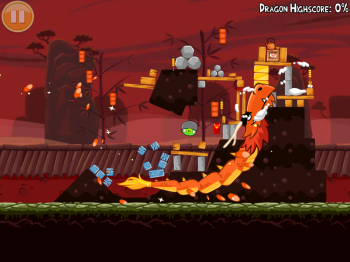 A couple of weeks back we told you that Rovio was hinting at a new China-themed update. And today we have it, as Angry Birds Seasons has a Year-of-the-Dragon special edition [1].
There are 15 new levels for fans to check out, with lots of fun in-game China goodies like exploding fireworks that you can trigger to help you on your quest to turn pigs into bacon. You can also now enlist the assistance of a 'Mighty Dragon' too (see screenshot above).
Rovio's teaser from a couple of days back is pretty fun too, with stylized artwork that shows the evil pigs doing a warped puppet show. You can check that out below. Rovio's Peter Vesterbacka says that fans in Japan can expect a localized Angry Birds edition sometime soon as well.