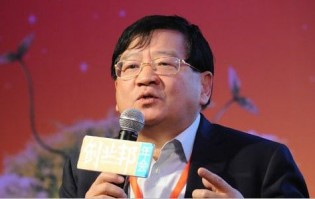 About a month ago, we took a look inside the mind of Chinese angel investor Xu Xiaoping. He is a pretty interesting guy, and last night, he wrote a long piece for Sina Tech's special entrepreneurship section about why companies (startups included) need a soul. If you can read Chinese, the whole essay is worth checking out. But for those who can't, here's a summary of basically what Xu is getting at.
Xu says all great companies need a soul, and then explains:
The soul of a company is the company's core value system. What you're selling or what service you're offering isn't important; what's important is whether you have a system of values, a goal, something to set you out from the pack. These core company values will become a support that helps keep the company competitive.
That may be especially true in China where, as Xu points out, it's pretty common to have your product get copied by competitors. The only thing about a company that can't be copied is its spiritual core, Xu says.
As an example, he points to New Oriental, saying that he would never have been interested in the company as just another training company, but that its spirit and style of teaching — the way the company felt — left a deep imprint on him. Obviously, as a co-founder of the school, Xu isn't exactly unbiased when it comes to New Oriental, but his point is that even startups need to be thinking about their corporate spirit, because ultimately that's what takes a company from good to great.
Xu also listed companies he isn't involved with as examples of this: Nike, Disney, Harley Davidson, Coca Cola, and Apple. All of those companies have strong core beliefs associated with them, and while cynics may write that off as good marketing, Xu's point is that that marketing — and that feeling that the brand evokes — should be based in the company's core beliefs and values. Even the best marketing can only do so much if it isn't backed by something real; Xu cites Apple's famous 1984 "Think Different" campaign as an example of marketing that worked because it reflected the unique soul of the company.
Xu also points out that both consumers and employees look for themselves when they're finding a product to buy or a place to work. If your company's value system is really an important part of how you operate, you'll attract employees and customers that see a reflection of themselves in those values, which makes them less likely to leave. Consequently, if there's no soul behind the company, there's not much reason for anyone to stick around, and customers will leave at the first sign of a lower price; employees will leave at the prospect of a higher paycheck.
If you're looking to get Mr. Xu interested in your startup, I highly recommend reading the whole piece. But what your company's values are — what its soul is — is something that every startup should be considering. Investment is nice and profitability is better, but as Xu asks himself at one point in his article:
Do startup companies need a soul? The answer is definitely yes.
[Via Sina Tech]