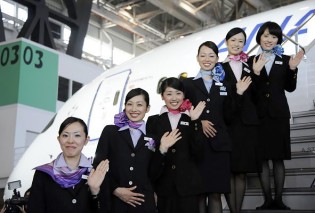 The Wall Street Journal is reporting that beginning in July 2013, Japanese airline ANA will start offering wi-fi on international flights to its passengers. There's no word on what this will cost passengers who wish to use it though, with the report citing a spokesperson as saying that has yet to be determined.
ANA says that the service will work the same way that a hotspot would on the ground, and that it will use OnAir as its internet solution. The Geneva-based company has already partnered with a range of other airlines, most recently Thai Airways which will see start to see service this year.
This new offering will be first made available in the airline's B777-300ER and B777-300ER fleets, and later in its B787 aircrafts. ANA's senior vice president of CS and product innovations Tetsu Fukuda commented on the choice of OnAir:
We look forward to working with OnAir on this project. OnAir has a wealth of experience in handling large scale fleet programs and delivering end-to-end connectivity solutions for multiple aircraft types.
ANA's domestic rival Japan Airlines (JAL) is also stepping up its in-flight services by offering its Sky Wi-Fi service this summer at a rate of $11.95 or $21.95 for 24 hours. It will be interesting to see how ANA's rates compare.
Of course the cruel irony is that once you land in Japan, you will find that there are very few wi-fi options available without paying, unlike the range of choices in so many other countries.
Photo: Worlds Crews