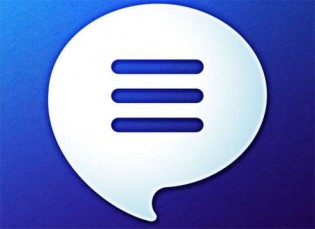 American mobile chat app MessageMe has been generating a lot of buzz since its launch just a couple of weeks ago, and with good reason. TechCrunch reports the app has already garnered more than a million users and sent more than ten million doodles. Why? TechCrunch writes the app is setting itself apart in the crowded mobile chat market with its features:
While the messaging space is incredibly competitive with apps from Facebook, Apple's iMessages plus the big Asian clients like Tencent's WeChat and NHN's Line, MessageMe thinks it can carve out a space because of the way it quickly pulls in rich media like doodles and videos […] Basically, they think it's a lot more expressive than standard messaging and silly as it seems, those doodles will differentiate them from the very large field of competition.
And in MessageMe's own press release, the company compares the way its app changes communication to "[the] way email revolutionized old school mail."
But is MessageMe really all that revolutionary? Does it really offer features that set it apart from the pack? After checking it out, our answer is a resounding "no." Yes, it's a very well-made app, and it deserves the success it's getting. But it really isn't innovative at all; nearly every feature MessageMe offers was already available in Asian mobile chat apps that have been around much longer than the American app. Here's a quick breakdown of the feature list for MessageMe and four popular Asian chat apps; pay special attention to the launch dates: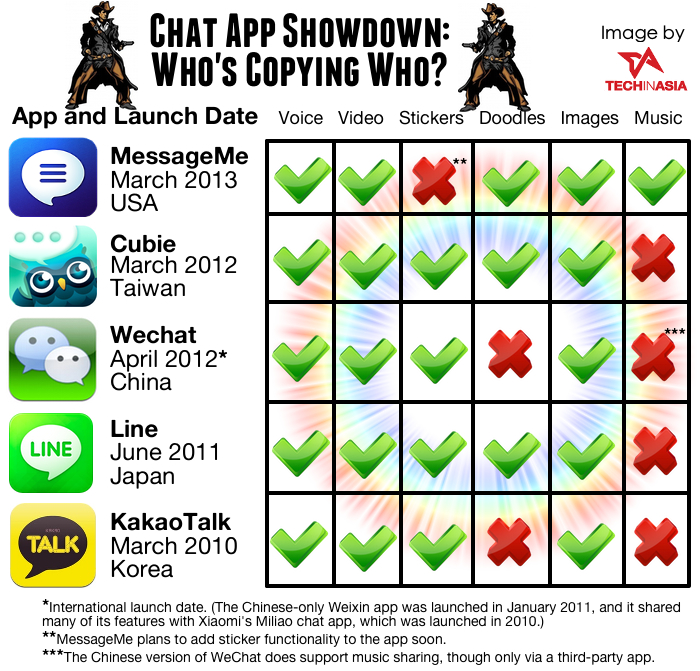 As you can see from the chart above, music integration is the only area where MessageMe really really sets itself apart, and even that has been available in Weixin (the Chinese version of WeChat) since last fall, albeit via a third-party plugin. Most of the other features TechCrunch says MessageMe is hoping to set itself apart with have been available for years on other apps; I was sending doodles to my wife using Xiaomi's Miliao mobile chat app all the way back in 2010. Plus, many of the Asian apps also offer features MessageMe doesn't have yet, like WeChat's ability to exchange digital business cards, Cubie's "secret" disappearing messages, or Vietnamese chat app Zalo's pictionary-style doodle game. MessageMe isn't blazing a new frontier, it is playing catch-up.
None of this is to say that MessageMe isn't good; it is. Personally, I found it to be a better user experience than some of these Asian apps, and if my friends adopt it, I'll probably start using it in addition to WeChat. But let's not kid ourselves. If the geography was reversed so that Line, KakaoTalk, WeChat, and Cubie were Western apps and MessageMe was an Asian app, MessageMe would be getting called a copycat and you'd see phrasing like "Asia's WeChat" in the headlines on tech news sites.
Of course, none of these Asian apps invented the concept of mobile messaging either, but they did pioneer and popularize the multimedia-based vision of mobile messaging with things like stickers and doodles that MessageMe is now following. That's a big part of why all of these apps have been so successful. WeChat boasts more than 300 million users, Line has more than 100 million, and KakaoTalk has more than 70 million.
It would be great if Asian apps like Line and WeChat got some recognition for their innovation, at the very least, the folks at MessageMe stopped pretending their app is revolutionary. By creating such a smooth and lightweight app, the MessageMe team has definitely given us one of the most evolved versions of the mobile chat app we've yet seen, and that's great. But for anyone familiar with Asia's popular chat apps, there's definitely no revolution here.