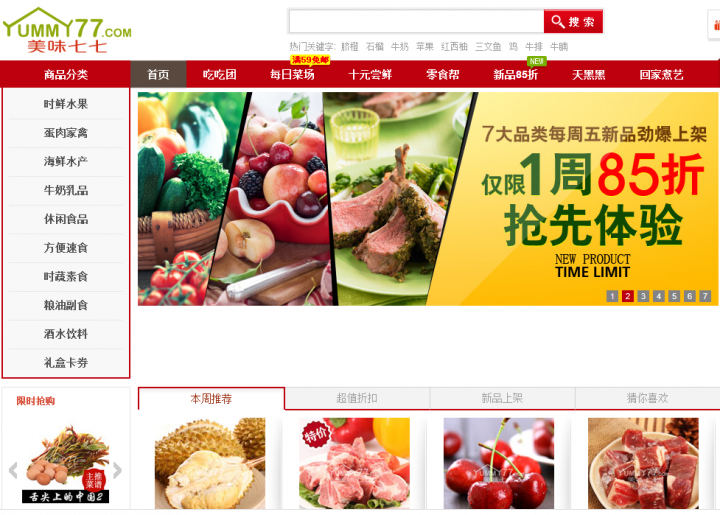 While Amazon (NASDAQ:AMZN) dominates ecommerce in the US, it's only a small player here in China. With just over two percent of China's huge B2C ecommerce market, the company has been relatively quiet here other than a handful of Kindle launches.
That's why we were surprised to find out that Amazon just dropped a US$20 million funding round on Chinese fresh food estore Yummy77 late last week. The two sites will remain separate entities, but Yummy77 stated on Weibo the investment will help enrich Amazon's product categories. Amazon could use this investment to expand something similar to its AmazonFresh grocery service to China.
This is the first time Amazon has ever invested in a Chinese company. The move mirrors Walmart's (NYSE:WMT) majority stake in Yihaodian, another Chinese ecommerce site with an emphasis on food and groceries. Last year, Yihaodian set a personal record of US$1.9 billion in sales.
Yummy77 reported sales exceeding RMB 100 million (US$16 million) in December of last year, according to TechNode. It launched just last year and now has over one million registered users.
See: Can Alibaba guarantee foreign ecommerce firms success in China? Shoprunner is about to find out
Perhaps food seems less competitive than other ecommerce sectors in China, but the two US-backed online grocers still have to compete with Taobao, Tmall, and Jingdong, all of which sell food alongside their dozens of other product categories. Ecommerce is a notoriously difficult space for foreign companies to enter in China, with eBay, Amazon, and Walmart all barely making a dent.