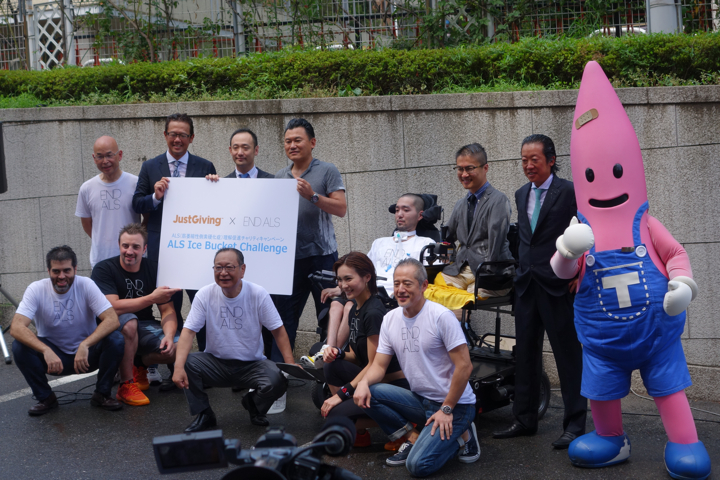 The ALS Ice Bucket challenge that started in America is making its way through the modern social media cycle – confusion, Facebook acceptance, Robert Downey Jr., minor but vocal backlash, minor backlash to the backlash, and, now, popularity in Asia.
Today several Japanese tech titans, led by Rakuten's founder and CEO Hiroshi Mikitani, put Japan on the map in a way not even Softbank's Masayoshi Son could. Mikitani, Sony Digital Entertainment CEO Atsushi Fukuda, and McCann Erickson CEO Yasuyuki Katagi led the charge by dumping buckets of ice water on their heads.
This event was different from most Ice Bucket Challenges in that it put focus squarely on ALS and the need for raising awareness and funds to fight it. ALS (amyotrophic lateral sclerosis) is a debilitating illness that robs patients of the ability to control their voluntary muscle movements. In advanced stages of the disease, patients are often left with control over only their eyelids. There is no known cure, although the work of Japanese Nobel Prize winner Dr. Shinya Yamanaka may be useful in divining one..
Mikitani connected with Japan's most prominent ALS activist, Hiro Fujita, a planning director at McCann Erickson and the founder of EndALS. Fujita's determined and positive fight against the disease was the subject of a moving TEDxTokyo speech and brought representatives from Momentum Japan, Reebok Fitness, and the Yale Club of Japan to join in today's event. Another key organizer was the Managing Director of Just Giving Japan, Daigo Sato.
See: China's top tech CEOs join in on 'ice bucket challenge' craze for ALS
The Ice Bucket Challenge has contributed to an immense increase in donations to the American ALS Association. From July 29 to August 19, supporters have given US$23 million. In that same period during 2013, awareness was lower and only US$1.9 million was collected.
As Sato explained in his opening remarks, of the 450,000 people living with ALS worldwide, 9,000 of them are in Japan. By doing today's Ice Bucket Challenge his hope is that society will send a little more hope and support to the people who need it most. Mikitani echoed this sentiment in personal terms. "I lost my own father to an unfortunate illness last year. This action should not be a one time thing. I hope we can stay focused on the patients for a long time to come," he said.
If you are interested in donating to this cause, please check out the ALS donation page from Just Giving Japan.
9月3日と4日にスタートアップアジア@東京を開催します!8月29日まで、割引コード < latebird >を使ってみて下さい!
Startup Asia Tokyo 2014 is on Sep 3 and 4. Until Aug 29th, unlock secret level using code < latebird >