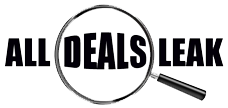 This article is an excerpt from AllDealsLeak's Lite Report for June. The report is the only publication of its kind that monitors the state of daily deals websites in Singapore. The AllDealsLeak website also reviews some of the deals on offer to see if they're worth purchasing.
Revenue: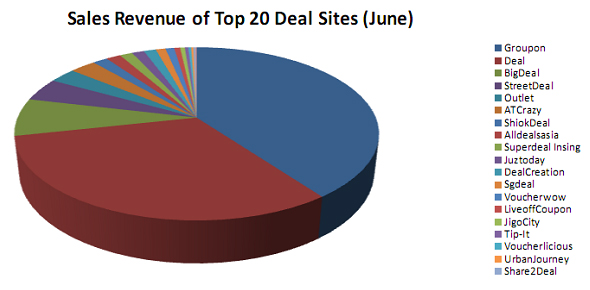 For the month of June, the total number of deal sites monitored has increased from 36 to 39. Not counting a total of 5 inactive sites, the total revenues for June were derived from the 34 active deal sites we have on hand. The revenue has also increased from S$7.1 million to S$7.8 million as seen from our previous page. However, the correlation between the increase in the number of deals this month with the increase with the revenues were not as strong as what ADL expected.
On average, 80% of the deal sites performed better than last month with increased revenues. However, there are some interesting things to churn out from June's figures. Two deal sites performed exceptionally well this month with a stellar and strong sales force bringing way more deals as compared to last month. They were Juztoday.com and Voucherwow.com.
Juztoday had increased their sales by more than 7 times this month and Voucherwow tripling theirs with 50% in the number of deals. Congratulations to both of them!
With risers, definitely there are underperformers too. Among all the increased in revenues, particularly noticeable was Outlet.com.sg with a significant drop in their revenues this month. This was also due to the 25% decrease with the number of deals held this month.
For loyal ADL readers whom have been following our posts, there are a few more entrants this month and we hope they will continue to perform better in the upcoming months as they are currently focused on marketing efforts.
Deals: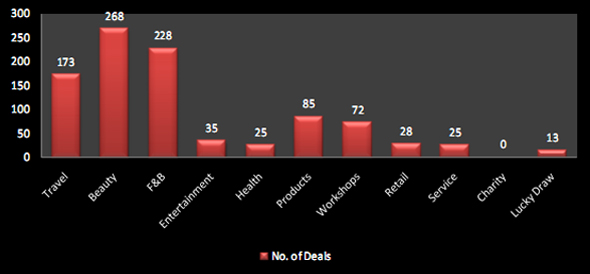 There was once again another exponential jump in the number of deals from last month. The total number of deals has increased from 747 last month to 952 this month. As mentioned under Revenues page, the correlation between the increase in the number of deals and industry's revenues were not as strong as what we expected.
In the month of June, travel deals revenue account for 38% of the total industry revenues. In terms of percentage, it had decreased from 46% last month. However, just the quantity of deals alone, it had increased yet another 32% from last month to 173. Even though travel deals are traditionally harder to carry out, but it does not deter more deal sites from administering it.
In the beauty segment, the number of deals has been steadily increasing since April. The number of beauty deals has increased another 18% to 268 this month. Particularly notable is a star mega deal by Groupon — $5 for 1 session of Brow Threading at Browhaus which has attracted over 5000 coupon buyers. It's going to be brisk business in the months to come with 5000 customer swarming Browhaus.
The F&B sector has a 35% increase from 168 to 228 deals this month. As mentioned in our previous lite reports, F&B deals are normally the deals that hit our "Record Breakers" page, the deals that most easily kick start consumers' inertia to buy. Check out this month's "Record Breakers" for the mega, mega star F&B Deal.
Surprisingly, the number of retail deals remained the same, which is not what we expected in view that it is Great Singapore Sale (GSS) season. Also, Groupon has launched their "Deals Near Me" Segment which explain why they were leading the pack in the month of June with their number of deals and revenues.
Found this report useful? Why not get the full report (at S$19.90) via PayPal, where you'll obtain:
The No. of Deals offered and Coupons sold by each of the 39 Deal sites
The total revenues earned per deal by each of the 39 deal sites
The highest grossing deals and most bought/least bought deals by each of the 34 deal sites
The types of deals offered (by categories) by each of the 39 deal sites
The Revenues earned (by categories) by each of the 39 deal sites
Detailed analysis of the entire industry based on all the data compiled