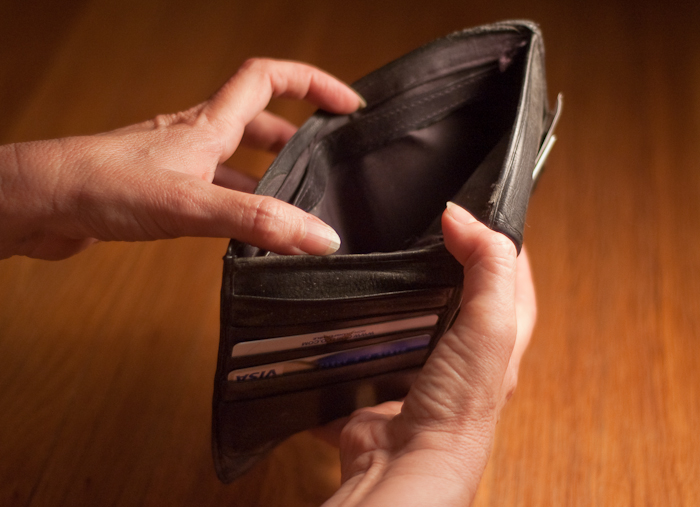 In the US, when people think of online payment services, there's really not much to think about at all. Most of us simply bind our credit cards to whatever e-commerce site we're using, or do the same with PayPal.
In China however, third-party payments have become an increasingly competitive space. The three China tech giants – Baidu, Tencent, and Alibaba – have each offered their own online payment services for quite some time, and continue to add features to them in hopes that consumers will drop their cash in their particular money pot. In the case of Tencent, that would be WeChat Payments, the WeChat extension of Tencent's earlier Tencent Payments. In the case of Alibaba, that would be Alipay and Alipay Wallet, which originated as "PayPal for Taobao" but is now aspiring to disrupt consumer banking and offline payments.
Alipay currently occupies 60 percent of the market for third-party payments, but that could change. Over the past six months, now that Alibaba and Tencent have entered a heated competition over all things mobile, social, and e-commerce related, both companies have continued to soup up their mobile payment services. Whereas tricked-out payment apps for splitting bills and transferring money have appeared many times outside of China – yes, PayPal is in on the game – the space remains fragmented and there have been few wild success stories. In China, meanwhile, the affiliation with Taobao (think Amazon) and WeChat (think WhatsApp), helps ensure that most users have the apps on their phone – which then opens the door for all sorts of possibilities. Moreover, given the ubiquity of QR codes in China, domestic consumers have already shown they are comfortable merging the wild world of the mobile internet with the real world.
Alibaba this week released a version 8.0 update of its Alipay Wallet app, which brings a revamped interface along with a few new features. In an effort to provide a visual anchor to this constantly evolving space – you can be sure you'll hear more about it from us this year – we've done up a screenshot-based guide to Alipay Wallet, with some partial translations, that will hopefully help illustrate the relationship between finance, e-commerce, and social media in China.
It's not a wallet, it's a superwallet
Alipay Wallet lets you know it wants your money as soon as you open the app. If you haven't yet binded a bank card to it, you'll be greeted with no less than three bonus incentives (two, really) to transfer your money over to the app.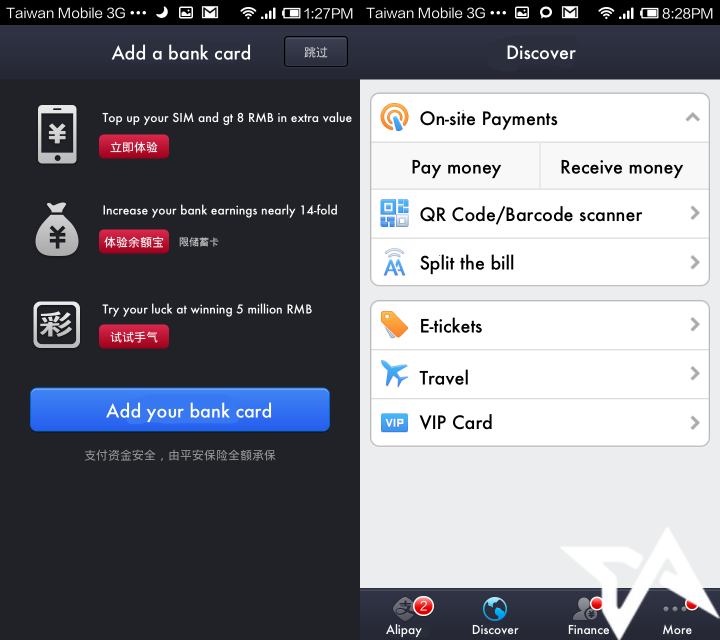 Alibaba has been very aggressive in implementing on-site, real-world payments using Alipay Wallet. But unlike the Square Reader or NFC, Alibaba's offline payment technology is decidedly un-sexy, but likely just as efficient.
Let's say you're at a convenience store in Guangzhou (where Alibaba has partnered with a major c-store chain Meiyijia) and want to buy a bag of chips using Alipay Wallet. By pressing "Pay money" under "On-site payments," you'll be presented with two different methods to make the transaction. One method uses sound wave technology – pressing a button causes the phone to emit a sound wave which, when directed towards a sensor causes the payment processor to extract funds from the Alipay Wallet. Alibaba tells us that sensors cost RMB 50 (about $7) a pop for retailers.
Alternatively, Alipay Wallet will generate a barcode, or a QR code, merchants can then scan using compatible equipment. Alibaba states it will integrate Alipay into merchants' payment systems for free.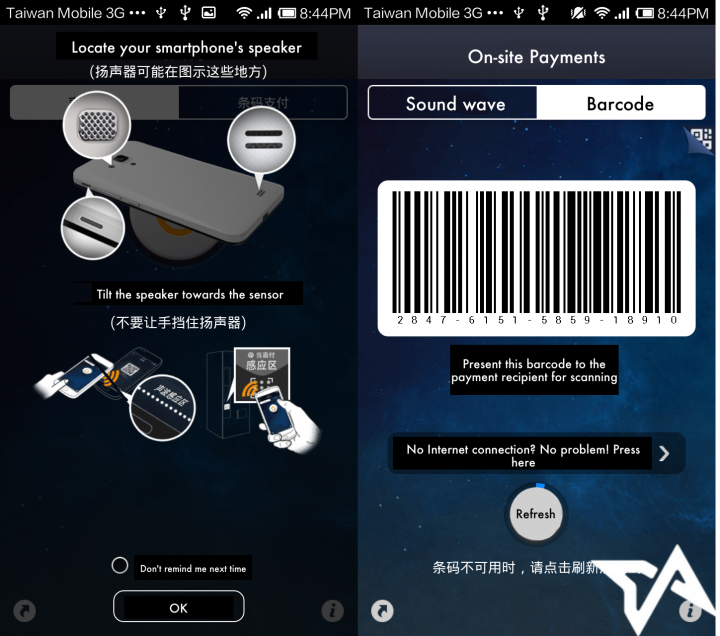 To date, Alibaba claims to have Alipay services integrated with over 30,000 storefronts nationwide.
You can also transfer money to users virtually, much like the PayPal app and Google Wallet. And of course, you toss in a few stickers while you're at it.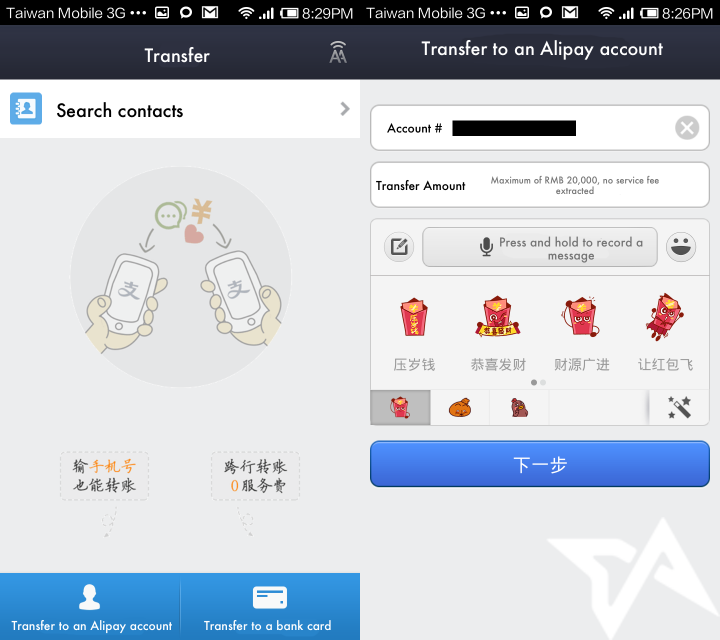 With the 8.0 update Alibaba also introduced a "Split the bill" function, which follows after an identical feature in Tencent's WeChat (along with a handful of other apps). After someone has paid for a group purchase – say, dinner – users can all get out their cellphones and hold the "AA" button simultaneously and and they'll automatically be grouped together. The recipient then presses a "receive payment button," enters the amount to be divided, confirms the participants, and then collects the take.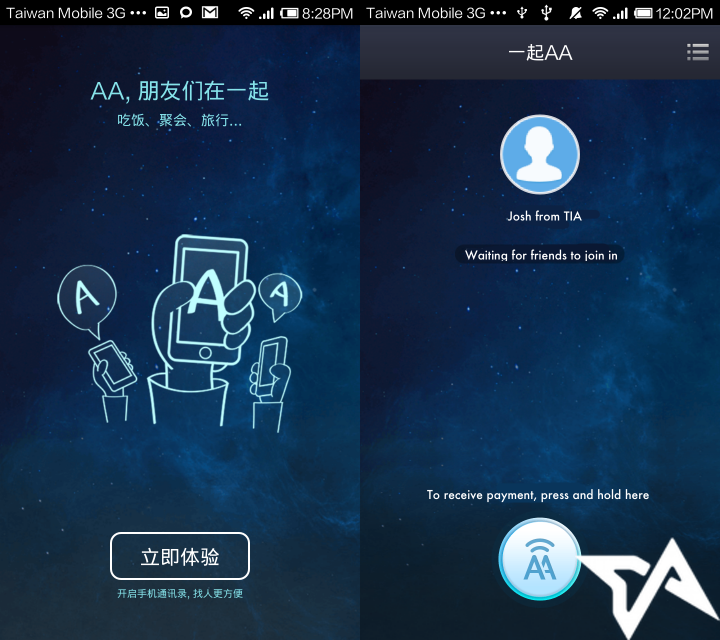 Of course, we're talking about Alibaba here, so there are a number of different ways on Alipay Wallet to buy goods and services. Clicking on "E-tickets" and "Travel" leads users to a variety of other apps, where any number of different things can be purchased. The company recently inked a deal with Wanda Group, a large Chinese movie theater chain, to offer paperless ticket booking.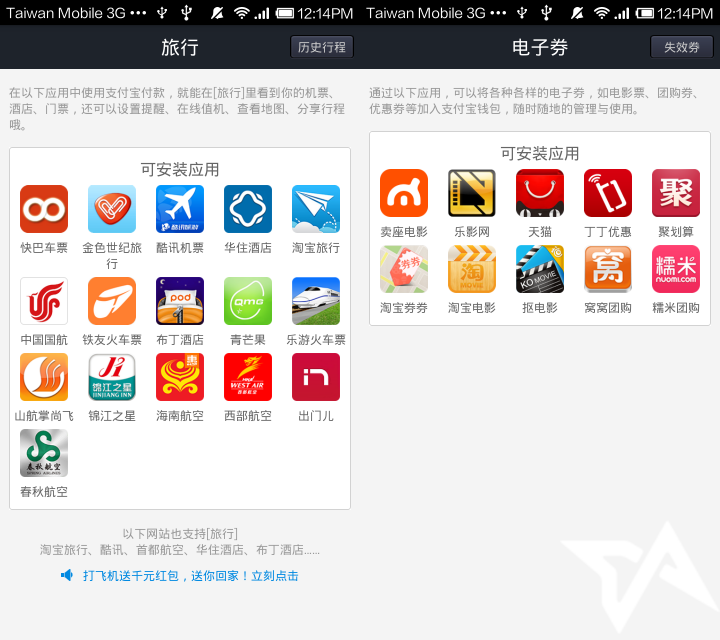 The Yu'ebao pitch
All of these aforementioned features and ties to e-commerce have led Alibaba to push it's financial product Yu'ebao, a money-market fund. The move into finance makes sense – instead of keeping your money in a Chinese bank, where it's no better off than under a mattress, why not take all that money you've got left in Alipay and put it in Yu'ebao, and then earn interest on that?
At an internet finance-themed gathering held by Chinese tech blog Huxiu last December, Alibaba representative Fan Zhiming described Yu'ebao as folows:
What can Yuebao do? First, it allows you to shop with your balance whenever you want. Secondly, it allows you to see your yields every day, something different from other funds. As a matter of fact, not many of us understand finance. Most people don't understand investment. What does "7-day annualised yield" mean? Many people don't get it. The innovative side of Yuebao is people can see how much return they are getting every day and they can withdraw their return every day. Such return that you can view every day, together with the convenience of purchase, makes people feel it is very convenient to put their money at our place. After all, the essence of internet is about convenience.
Yu'ebao is deeply embedded in Alipay Wallet – the company hardly misses an opportunity to direct users to the correlating registration page that allows them to sign up and transfer cash.
Unsurprisingly, the complicated details behind the fund are barely discussed – Alibaba is presenting Yu'ebao as simplistically and consumer-friendly as possible.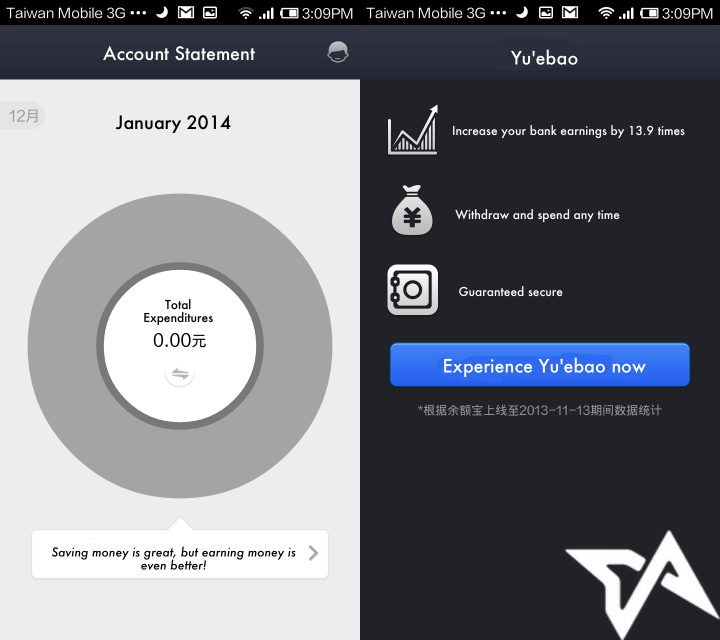 What's in all this for Alibaba? Jack Ma has been vocal in his disillusionment with traditional consumer banking in China, so perhaps there's some reform-minded ambitions at play. But Alibaba also earns money from Yu'ebao. Tianhong, the firm that operates the fund pays Alipay an annual 0.08 percent custodial fee, a 0.3 percent management fee and a 0.25 percent sales fee.
Winning over wallets
As of December, Alipay Wallet has 100 million registered users. Yu'ebao, meanwhile, appears to have been the most successful of the several e-commerce related money-market funds that emerged in 2013. As of this week, just over six months after its launch, it accumulated over 49 million users and total deposits of over 250 billion yuan ($41 billion). Interest rates have fluctuated but tend to hover around 6 percent.
As a result, Alibaba's pitch to Chinese consumers amounts to "Put your money in this pot called Alipay. Use some of that money to buy shoes and plane tickets from Alibaba. Put the rest of it away in Yu'ebao, and if you feel like it, take some cash out a few months later and buy more goods from Alibaba."
What's missing here? Social. No one will ever open a sexy e-Wallet as often as they open WeChat, China's most popular messenger. That app has over 270 million monthly active users, and it's penetration into society is so deep that companies large and small are already leveraging it to promote and operate their businesses. Monetizing this activity ought to be seamless. That's why Alibaba's push for offline payments is so important to the future of Alipay – if it can't get users to open Alipay Wallet every time they text their grandmother, hopefully it can get users to open Alipay Wallet every time they go into a 7-11.
So Tencent has begun taking steps to persuade users into putting money into its pot. WeChat already offers official services for taxi rides and vending machine purchases. It also lets users purchase movie tickets on their phones, and it has a rudimentary e-commerce site that's basically a mobile revamp of Tencent's 51buy.com. And last Thursday, it launched its own money market fund in direct competition with Yu'ebao.
As a result, over the coming months, Alibaba and Tencent will be fighting to fill up their pots with cash from Chinese consumers. Alibaba maintains incumbency in buying things and saving money  – it's by far the most-used payments system thus far in China. WeChat maintains incumbency in being used all the time – to text friends, to check news, to order food. Both Tencent and Alibaba want Chinese consumers to take money out of their wallets and put it onto their phones – where it goes after that, however, could upend either firm's supremacy.
(Editing by Paul Bischoff)
(Top image via Flickr user nohodamon)