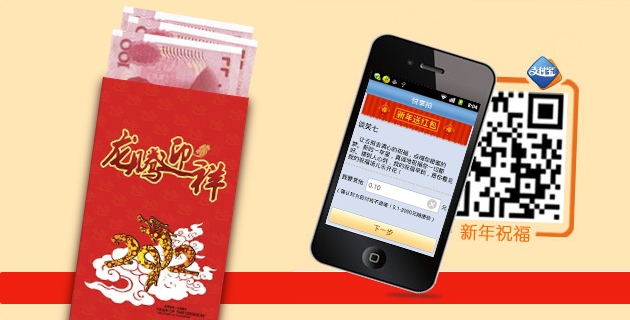 'Red envelopes' – or 'red packets' – are a long-standing fixture of Chinese New Year celebrations whereby money is gifted, usually from adults to young relatives. And now Alipay, China's biggest online payment platform, is dragging the tradition into the 21st century by allowing people to create QR codes (as seen above) that can be scanned by the smartphone of another Alipay user which then wires the cash through the ether. Yes, it's a virtual red envelope.
First, the hopeful recipient can go to Alipay's special New Year promo page – see it here – and enter their account number, password, and then input an amount and a seasonal greeting. That generates the QR code. The potential cash transfer is limited to 2,000 RMB (US$317). These QR codes can then be shared anywhere, such as by email or on social networks like Sina's or Tencent's Weibo, in the hope that relatives, and perhaps even some friends, might whip out their phones and gift you some cold, hard RMB.
To do so, the giver just needs to fire up the Alipay app on their iPhone or Android handset and scan that funky black and white code. With the press of a button for confirmation, the virtual red envelope wings its way to the recipient.
I've noticed that the red envelope convention differs somewhat in various parts of China. In southern Guangdong province, all married folks are obliged to give these cash-stuffed packets to any unmarried relatives; while in many other areas, it's only kids and cash-strapped university students who might receive them. But with most family members reunited for the upcoming festivities, and gifting between friends pretty uncommon, it remains to be seen how this QR system will be used.
Presumably, Alibaba has created this promo so that more cash will be spent on its own e-commerce sites – although of course the monetary gift can be used to buy items from any website or service that supports Alipay. The seasonal QR code bonanza runs until January 31st.
Going off an a bit of a tangent, if you need some seasonal entertainment, Angry Birds Seasons got a 'year of the dragon' update earlier today.