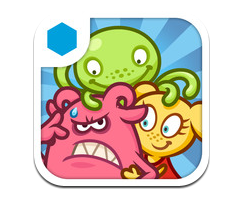 Following up on Zombie Jombie, the first title from its North American studio, Japanese social gaming giant GREE (TYO:3632) has now released a second title, Alien Family. It's a free-to-play adventure/farming game which also has a collection element to it as you gather your Alien family.
GREE's Zombie Jombie appears to have performed respectably well since it was released, hitting the ninth spot in the free app rankings and 37th among top grossing apps.
It will be interesting to see how Alien Family and future GREE titles are received in North America, and whether or not its upcoming global gaming platform can be a success. It recently enlisted advertising behemoth Dentsu to assist with promotion of its global expansion.
Coincidentally, our friend Serkan Toto has just published his perspective on how Japanese social gaming companies GREE and DeNA will fare outside Japan. He has a number of reasons why he thinks they are "poised to fail" in their role as platform providers, but notes that he hopes he is wrong. Do check out his full presentation to find out more.
For those who would like to give a GREE game a spin, you can download Alien Family from the U.S. App Store. Regrettably, it's not available internationally. Check out GREE's promo video and images below: