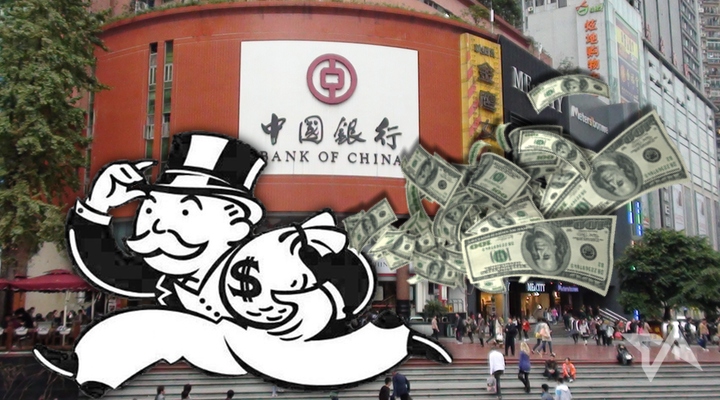 China is set to launch a trial program to shake up the nation's state-owned banks, allowing five new private banks to be set up in the country. A number of companies are rushing to get a license to compete in this area as authorities seek to reform the largely state monopoly on banking and several other important sectors.
According to Bloomberg and Xinhua, Chinese web giants Alibaba and Tencent (HKG:0700) are among at least 10 corporations that have been selected to take part in preparation for the banking program.
Each of the five new private banks will have to be co-sponsored by at least two firms, said Shang Fulin, head of the China Banking Regulatory Commission (CBRC). It's not clear how the new banks would be named. Furthermore, there's no timetable in place yet. The announcement comes on the sidelines of China's annual parliamentary session.
China has private banks already, the first being set up in 1996. But China's 'big four' – Bank of China, China Construction Bank, Industrial and Commercial Bank of China, and Agricultural Bank of China – are all state-owned and still dominate the industry.
Web giants already disrupting
China's top web companies are already disrupting China's banks and the whole finance industry, and the impact of their recent foray into online funds might be what prompted authorities to react as part of ongoing banking reforms.
Alibaba was first to set up a new wave of online-only finance products in June last year with the launch of Yu'e Bao. It gives savers a higher interest rate than most banks' timed deposit offerings, with no limits of when funds can be withdrawn. That was soon incorporated into Alipay, Alibaba's ewallet app and epayment service.
(See: Wallet wars: A visual peek inside China's answer to PayPal)
The Financial Times says today that at least RMB 500 billion ($81 billion) in deposits had been put in Alibaba's Yu'e Bao by the start of this week. That effectively makes it the fourth largest money-market fund in the world. However, a lack of clear regulation for online funds from private companies has cast a shadow over the service.
Other major Chinese web companies are already shaking things up. Tencent, Baidu (NASDAQ:BIDU), and Netease (NASDAQ:NTES) have all got in on the personal investment game in China.
Tencent, as it battles ecommerce leader Alibaba in the realm of mobile commerce, even added its fund into WeChat, the popular messaging app.
(Editing by Josh Horwitz)