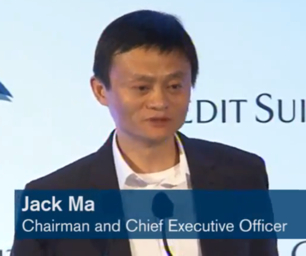 242 million Chinese people shop online, and a great many of them do so on e-commerce sites run by China's Alibaba. So when founder and chairman Jack Ma talks about the industry, a lot of people sit up and listen. Especially as he always speaks his mind.
That's what we see in this new video in which Jack Ma talks, in English, at an investment conference in Hong Kong yesterday. Emphasising how his company – with sites like Taobao and Tmall – creates open platforms without the need for Alibaba itself to purchase stock and maintain warehouses (what is called B2B2C), he slams "the traditional B2C e-commerce model – which I call the Amazon model" as the wrong way to do business online. He adds:
(The B2C model) is going to face a huge challenge. We believe that putting (…) the traditional business just purely online – that's not called e-commerce. In the future, business will not make money because of the scale, it's because of the value – the different value – created. (…)

I checked Amazon. They have $52 billion but they still do not make money, so 'scale' does not make any sense.
He contrasts Amazon's B2C model – and its huge scale – with what he calls Alibaba's "efficiency" in its "ecosystem" that encourages businesses to get online and sell via its sites – Taobao for amateur shopkeepers, Tmall for small businesses and major brands. (UPDATED: I failed to hear the word "scale" in the video; it's now corrected in this post).
In another segment, Ma – who'll be replaced as CEO by Jonathan Lu in May – compared and contrasted the online shopping industry in China and the US. He observed:
The difference between China e-commerce and US e-commerce is that e-commerce in the USA is what I call the dessert – it's supplementary to their main business, because the USA's infrastructure of doing business is so good. So it is very difficult for e-commerce in the USA to grow, to develop, to surpass the traditional business.

But in China, because the infrastructure of commerce is too bad, then e-commerce becomes the main course.
You might like to skip the introductory waffle from some banker by going straight to 2:51 in the 45-minute video of Ma's keynote speech:
(Source: Alibaba's official blog, Alizila)