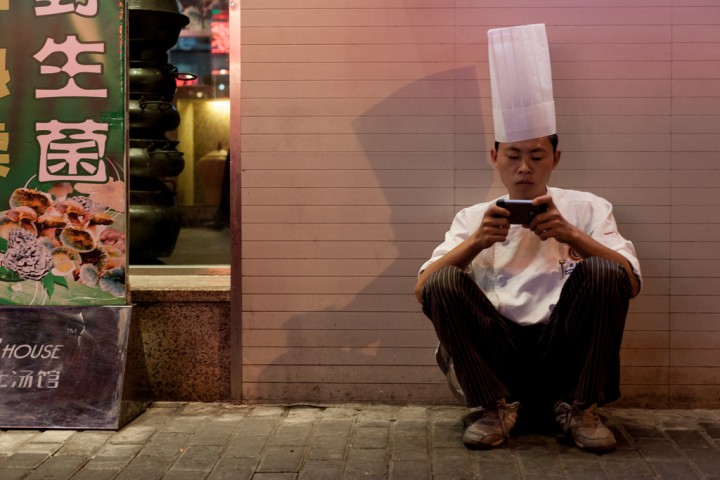 Chinese e-commerce giant Alibaba spent much of 2013 entering seemingly every sector in the mobile internet space it wasn't already active in, but one area remained untouched – games. That has historically always been the domain of rival Tencent (HKG: 0700), among other players like Netease.
This morning, however, that's changed, as Alibaba announced it will begin developing a platform for mobile games.
Alibaba's not beating around the bush in its announcement – it mentions Tencent directly in its press release, describing that firm's control over the gaming market as a "monopoly." So it's clear the Alibaba knows what it's up against.
What does Alibaba have in store?
So how will Alibaba, a firm with little prior experience in gaming, plan to take on Tencent, which has the hugely popular WeChat as a tool to persuade people to get into mobile gaming?
Concrete details are scarce, but the company is hoping that its existing dominance in payments and e-commerce will help bolster the effort.
For one thing, Alibaba will court developers aggressively with its revenue-sharing plan. The company has pledged to give 70 percent of the take to game makers, while it pockets the next 20 percent. The final 10 percent will go to charity – everyone likes a little peace and love. Alibaba claims that this scheme is far more generous than the one currently employed by Tencent with its third-party developers, which, according to Alibaba, keeps 90 percent of gaming revenues for itself.
Also, Alibaba's in a strong position to provide developers with support and technical resources. The company will provide cloud storage for developers through its Aliyun service (which is a bit like Amazon Web Services), along with other data management services. It will also use Alipay, by far China's most popular e-payment service now, as the channel to funnel purchases from customers to developers.
Alibaba also claims it will use existing e-commerce and social products. In addition to operating Taobao, China's largest e-commerce site with 700 million users, Alibaba's chairman Jack Ma sits on the board of UCWeb, China's most popular mobile web browser. There's also its $586 million investment in Sina Weibo. These mobile products, in addition to others that Alibaba has relationships with, could serve as effective channels for more marketing and distribution.
All in all, the company hopes to create a mobile game ecosystem that is "healthy, secure, and mutually beneficial," according to Liu Chunning, the project's director – who, not coincidentally, used to work for Tencent.
What's Alibaba up against?
Given Tencent's long legacy in gaming, on the surface, Alibaba's entry into gaming might make the comparison-inclined recall Microsoft's Bing. In reality, however, it's not that simple.
Tencent pioneered online gaming in China with its massively popular QQ Games portal, which is now best known internationally for popularizing the freemium model long before the era of mobile apps and in-app purchases. Of the $4.6 billion Tencent made in revenue in the first half of 2013, 70 percent came from virtual goods and other game-related purchases – and those gaming revenues are growing. Research firm Analysys estimates that Tencent's QQ Games occupies almost 50 percent of China's online game market, when measured for revenue share.
But much of that revenue still comes from purchases made on the old-fashioned desktop. In mobile, Tencent also looks set to dominate, but smartphones and tablets haven't yet become a core component to Tencent's monetization. iMedia told SCMP that the company likely only makes up about 8 percent of the mobile gaming market, which remains highly fragmented due to the proliferation of small developers. Meanwhile, the market for games in China is expected to grow 31 percent annually for the next three years, so there's room for latecomers to catch up.
The company released seven in-house casual games to date, all of which have been very successful, and all of which are linked with WeChat, the behemoth messenger that's becoming the nexus of China's mobile internet. Given WeChat's recent use of that messenger as a conduit for buying things like movie tickets and taxi rides, it's likely that Tencent's gaming business will continue to grow on WeChat.
Given WeChat's continued dominance in the messaging space, it's unlikely that Alibaba's partnerships with Sina Weibo and UC Browser will help it get its games out to customers. But if its proposition to developers is indeed more appealing than that of Tencent's it could attract a wave of cool games that tug at WeChat's center of gravity.
Alibaba and Tencent are currently engaged in a tit-for-tat competition over all things mobile. In addition to movie tickets and cab rides, Alibaba has released its Laiwang messenger to compete with WeChat.
(Editing by Steven Millward)
(Image via Flickr user pamhule)