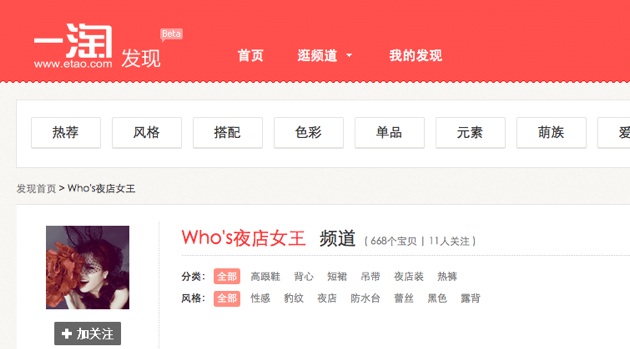 Alibaba's product search engine, eTao, now has a Pinterest-like site of its own that's designed to help with the shopping process. Called 'Discover' – at like.etao.com – it has just launched in beta, and has the usual array of images, options to 'like' and share, and all the other ephemera of a social pinboard site.
But eTao Discover also has a buy button on every page (pictured below), indicating that this is putting the 'commerce' into social commerce. Focusing on women's clothing and accessories, it's clearly aimed at driving even more female shoppers to e-commerce sites. And so, after following certain categories of items – like pink clothes, high heels, or Gucci – users can see new, relevant images appear in those groups, and browse user-defined types of clothes in a way that seems easier and more intuitive than on most online malls.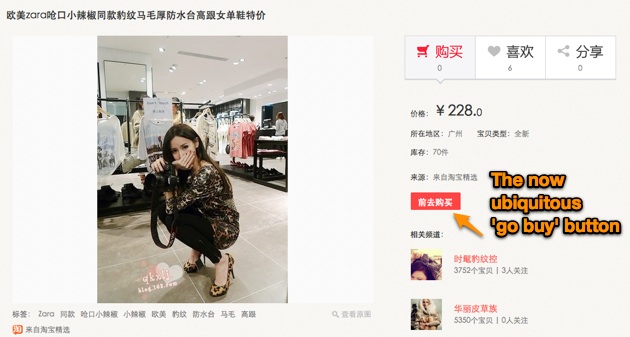 Last week we reported that eTao might be working on this after the CEO of China's leading independent Pinterest clone, Mogujie, hinted that he had been working with Alibaba on a new product.
The new eTao Discover is not limited to just Alibaba's consumer e-commerce sites – Taobao and Tmall – as the company is stressing that this is an open platform. An Alibaba spokeswoman told us today:
"Discover" is currently in beta-testing and is an open social platform with a mission consistent with eTao's main goal of making it easier for consumers to make smart purchasing decisions before, during and after the buying process.
At the moment, most links on the new Pinterest clone go to individual's Taobao stores, but Alibaba reassures us that "more content providers including B2C websites" will be visible in it in due course, which means sites like Dangdang (NYSE:DANG), Vancl, and numerous others.
Last month, China's leading Facebook-esque social network launched a similarly social commerce-oriented pinboard site called Renren Plaza, which now has even more tough competition.