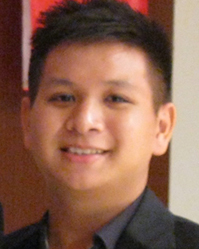 We love working with dynamic, talented and passionate folks and one of our latest additions to our team, Albert is just like that.
SGE welcomes Albert Mai on board our team, focused on scouting the Vietnam startup scene.
I first met Albert in Singapore many months ago and he is now back in Ho Chi Minh City, Vietnam, running a startup and helping the local community grow through events. To help you to get to know Albert better, we have a mini Q&A with him here.
Gwen: What are you passionate about?
Albert: My passions are technology, mentoring, growth and standing out. I love technology for it helps our lives be more connected, more productive, healthier and to be able to explore breakthrough opportunities without boundary. Helping others to become more successful at what they are doing is something that makes me happy. Growing is a part of life from the process of #Flearn (Fail and Learn) and permanent beta life, I'm addicted to this, especially how to apply agile and lean methodology from startup into it. Making a dent in the universe is what wakes me up every morning and keeps me up late at night.
Gwen: How has life brought you to what you are doing today?
Albert: Around 2 years ago, I struck upon a question as to what made me stand our from the rest of my classmates if we do everything the same: career path, student clubs and the same degree. Then I started to spend more time outside studies, to get out of the university comfort zone to find breakthrough opportunities. I was lucky to have joined an entrepreneurship bootcamp by Prof. Tom Kosnik, Startup Weekend Hochiminh and joined the Keewi team with Mike Tran.
Believing there are much more things outside Vietnam – the comfort zone – at the start of 2012, I participated in the ASEANpreneurs Youth Leader Exchange by NES in Singapore – that was the moment when I discovered how exciting and active the startup community here is. Four months later, I came back to this country.
I was lucky to have had opportunities to participate in Echelon 2012, Lean Startup Machine, Failcon, TechVenture and Building Lean Startups and 45 other tech and startup events in the 6 months as well as to build a network of nearly 100 inspiring entrepreneurs. During this time, I also co-organized Startup Grind Singapore events with Son. They taught me many lessons, one way or the other.
Coming back to Vietnam, I am doing many things to contribute to the growth of the local startup community with what I have learned from Singapore. It's getting hotter day by day.
To Angelia Le, the one that always stays by my side, the most important part of my life who always goes with me everywhere in this journey.
Gwen: Tell us about the projects you are doing now.
Albert: Currently, I am working on StartMeUp, a monthly startup event in Ho Chi Minh, Vietnam. It is powered by the Keewi team and technology. We have organized 8 events featuring 22 speakers. At the moment, I am looking to invite speakers from Singapore (other countries are also welcomed) to share their experiences at our events and to engage with the local community here. Another project is my own blog @ StartUpOf.me so stay tuned!
If you've got a tip on a story you think SGE should cover, let us know.