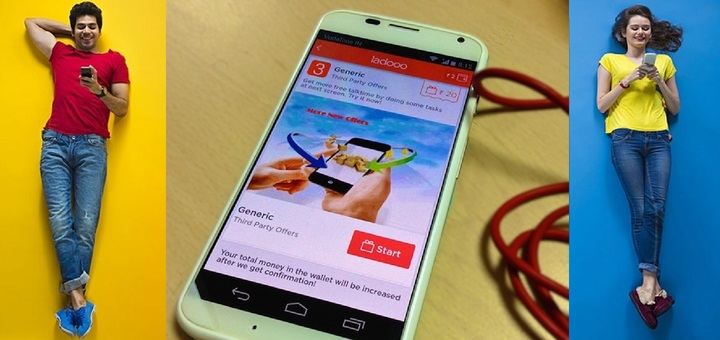 More and more Indians are now ready to splurge on solitaires, Jimmy Choo, and Louis Vuitton. Yet, India is still largely a value-for-money market. It is in this large, diversified country that a multitude of brands are vying for customer attention online. Discounts and deals are aplenty, but the challenge is to find cost-effective ways to engage with consumers and win their loyalty.
Airloyal, a young adtech startup, has come up with a solution: a platform called Ladooo that incentivizes consumer attention. It uses mobile prepaid airtime as a reward to harness consumer attention, engagement, and action online. If consumers complete a specific app-related task, they get free airtime. And advertisers pay only if consumers complete that task.
"We are building a tight community of users in the 15 to 25-year-old target group. We provide instant gratification to consumers and thereby, allow more engaging interaction possibilities for our advertisers," Raja Hussain, founder and CEO of Airloyal, tells Tech in Asia.
Earlier, Hussain was part of the core founding team at Roamware, a Cupertino based mobile carrier technology company now called Mobileum. He founded Airloyal along with Nithyanandan Radhakrishnan, former senior vice president of India's IT bellwether Infosys, and Prasanna Jaganathan, who headed the engineering team of mobile social entertainment company Funspot.
Quikr, Flipkart, TicketGoose as clients
The offers running on Ladooo are fairly simple. Consumers have to download and try the advertisers' mobile apps. The idea is to "build awareness for the advertisers' offerings and get consumers to spread the word to their friends," Hussain explains.
When a user installs Ladooo and completes the tasks, they earn money in their mobile wallet. Using that, the user can choose to top-up any mobile number or DTH (Direct-To-Home digital satellite service) in India.
A few months ago, bus ticket booking portal TicketGoose wanted to target students in Chennai and Bangalore, and decided to give Airloyal's Ladooo a try. Its CEO Arun Athiapan says the user acquisition campaign exceeded their expectations because of Airloyal's targeting capabilities. "TicketGoose offers the most visual experience for bus ticket booking on the move. So it was important for us to get users to try the app."
Currently, Airloyal has 30 brands, including TicketGoose, Flipkart, Quikr, Goibibo, iPlay, Cleartrip, The Times Group, Vodafone India and Bharti Airtel, on Ladooo.
See: Get ready for India's smartphone explosion (INFOGRAPHIC)
A million engagements in 90 days
There is a free commerce trend in consumption through mobile in India, Hussain says. "A consumer now is doing more than just consuming a product. They are able to influence others through social media as they consume." Airloyal is leveraging this trend to make it worthwhile for a consumer to engage with a brand's app. Its platform gives away a portion of the ad dollars spent by brands in return for consuming the brands and influencing friends.
Between the 30 brands on Ladooo, Airloyal boasts of a million instances of brand engagement within 90 days of its launch in March. "Ladooo registers several thousand new users every day, with more than 40 percent daily retention, and has given away rewards worth US$50,000 dollars to its users already," Hussain says.
The startup's vision is to own the attention of one billion people for an average of one minute every day and give away US$1 billion a year. It is headquartered in Singapore currently, and aims to rapidly expand operations to Indonesia and other Asian countries.
A US$31.45 billion market
According to eMarketer, global mobile ad spending increased 105 percent to total US$17.96 billion in 2013. It estimates:
In 2014, mobile is on pace to rise another 75.1 percent to US$31.45 billion, accounting for nearly one-quarter of total digital ad spending worldwide.
In India, cheaper Android devices are driving customers to ditch their brick phones faster than ever. A report from market research firm IDC says that in the first quarter of 2014, smartphone shipments in India grew 186 percent year-on-year. Nearly a third of all new phone shipments were smartphones, though nine out of 10 mobile phones being used in India at present are feature phones.
"In emerging economies, consumers have been spending an average of 10 percent of their daily wage on airtime. We intend to correct this anomaly through free commerce, our forte. Our aim is to divert a part of the annual worldwide ad spend into the consumer's pocket," Hussain says.