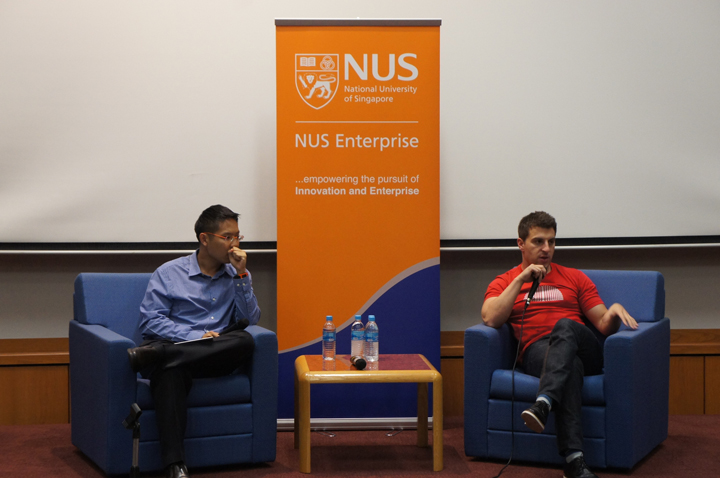 Brian Chesky, co-founder and CEO at Airbnb was onstage last Friday with Sequoia Capital's Yinglan Tan as moderator at the National University of Singapore (NUS) to talk about his experience building Airbnb.
If you don't know Airbnb, then you probably haven't traveled much. Airbnb is the largest online marketplace to list and rent holiday homes and rooms around the world. To date, the San Francisco startup has over 500,000 listings, serving over 8.5 million guests across 33,000 cities and is apparently also very active in Asia.
Airbnb was founded when Chesky and his co-founder first started leasing out their own rooms for money. "Unfortunately, I don't have any beds. But Joe my roommate had three air beds. I didn't know why he had that. But we realized, we created not a breakfast but an air bed and breakfast. That's where the name came from."
It wasn't long before they thought to replicate the idea and serve more ordinary customers who have rooms for rent. In three days, Joe Gebia and Brian, both from design backgrounds, built a basic html site and started running Airbnb.
If you are an ordinary person you actually represent millions of people. There are probably a lot of ordinary people like us […] go to a website and book someone's home.
Back in 2008, Brian said that investors didn't even want to invest in good ideas, let alone his, which many said was a crazy idea. "It's not crazy good, but crazy," he said. Airbnb had been running eight to nine months, but only had about 100 users and 10 visitors per day. "I'm pretty sure Facebook didn't go through this experience," he said jokingly.
It is really hard to build a marketplace. We ended up having travelers who wanted to [book a place] on our website but there was no one wanting to rent out their rooms. And we started with no money and got progressively more broke from there. […] We took on $20,000, $30,000 credit card debt just [to fund] the company.
Brian and his co-founders' debt got so bad that they couldn't get any more loans to fund their startup. Some days, Brian said he woke up with his heart thumping, feeling depressed about his life and startup saying, "Holy cow, how did I end up doing this? This a terrible idea and this is what I've asked for." But other days he was brimming with enthusiasm and optimism.
The turning point
In 2008, during the Democratic National Convention, Brian and his team had an idea. 80,000 people were going to Denver for the convention and there was a shortage of hotels. Naturally, Airbnb became the go to site for folks to solve their accommodation problem. It was so effective that it caught the attention of New Yorks Times and CNN.
Airbnb also went on to smartly promote its brand by selling limited edition Obama O's and Cap'n McCain's cereal during the last US presidential election. These limited edition cereals even had jingles. It sounds simple and good. But to assemble these cereals, Brian and his co-founders had to cut and fold 1,000 cereal boxes from huge cardboard pieces. Once assembled, Brian sent the cereals to all the media people he knew. And overnight, it became nationwide news.
We sold $30,000 worth of breakfast cereals. We couldn't believe it. We got back to zero in our bank account. Greatest feeling in the world!
The turning point for Airbnb, as Brian described, is on January 2009 when Airbnb entered YCombinator. Brian said that the interview with Paul Graham didn't look too good until Joe pulled out a box of Obama O's and handed it to him. Graham ended up funding Airbnb believing that if they could sell cereals at $40 per box, then maybe they could convince people to sleep in other people's homes.
Make 100 people love your product
At YCombinator, Brian shared with the audience a piece of advice from Paul Graham which he still follows closely today:
It's better to have 100 people [who] love you than finding a million who just sort of like you. Build your business one person at a time. Just focus on 100 people. If they love you, they will market the product for you and tell everyone else. Go to your users. Do one scalable thing, one person at a time. It's actually so simple, that's the secret… that's all you need to do.

Every entrepreneur is worried about appeasing investors. Every investor wants the graph to go up and to the right… Who gives a shit? That's not what going to make your company successful. Your customer don't care how fast your [company is] growing. Your customer only cares about how great the experience you have is.
Brian also said that because startups are small, it is much easier to create a great experience for users. On the other hand, companies with a lot of users can be a curse, a prison. "All great things in history started with a few people that just loved it. They told the followers, they told the other people. […] Countries started that way, the best products started that way."
Walking the talk, Brian and his team went door to door to meet Airbnb hosts and get professional photographs on their sites so people could have a better view of the rooms for rent. Braving snow and rain, they went out and interacted with hosts to find out what they really needed to do to improve Airbnb's service.
Airbnb was really built by city by city, block by block, neighbor by neighbor, host by host, and today we have over a 175,000 people a night staying at Airbnb. And pretty soon, in a couple of years, we can hit a million people staying a night. It will become hopefully one of the largest providers for accommodation in the world. For the first time in human history, people on Airbnb will be able to stay with and live with people in every other country in the world. Never in human history has that been possible, for people to live together. But because of this now, we are able to connect the world. It is truly available. And it all started with this incredible early humble beginning. It was totally crazy.
Another piece of advice that Brian has to give? "Don't fuck up the culture," he said. That advice was actually given to him by one of his investors, Peter Thiel. The first 300 employees were interviewed by Brian himself and he says he still tries to meet with every newly-hired employee.
"Culture is so incredibly important because it is the foundation for all future innovation. People with passion can change the world," he said.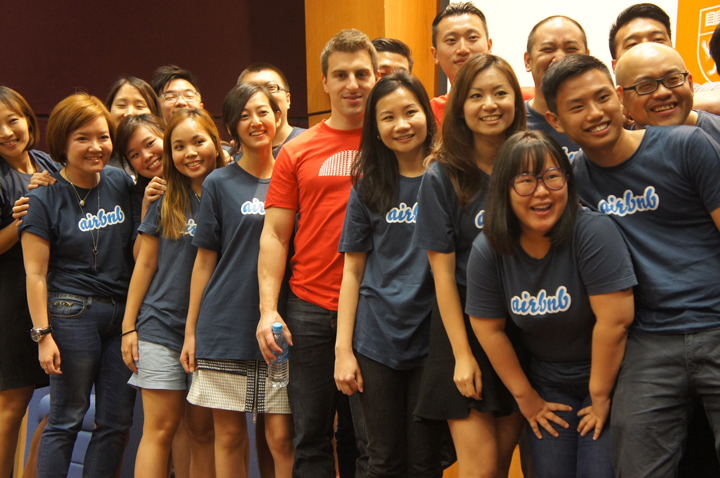 (Image credit: Noriyuki Oka)