Home-booking service Airbnb has been in Southeast Asia since late last year, but now the company is diving deeper into the region with its Neighborhoods service. Neighborhoods allows travelers to search cities by their interests, browse what kind of activities are available, and then see the Airbnb rooms available for rent close to their planned destinations. Last night, the company launched Bangkok Neighborhoods, the first city in Asia to debut the service.
If you're planning on traveling to Bangkok anytime soon it seems like a pretty useful service. I like night markets, so I clicked on that to filter down the available destinations, picked one, and then was able to check out a lot of high-res photos of the area, read some interesting information about its culture and history, and then browse through 28 room and house listings in the area. It's fast, simple, and convenient.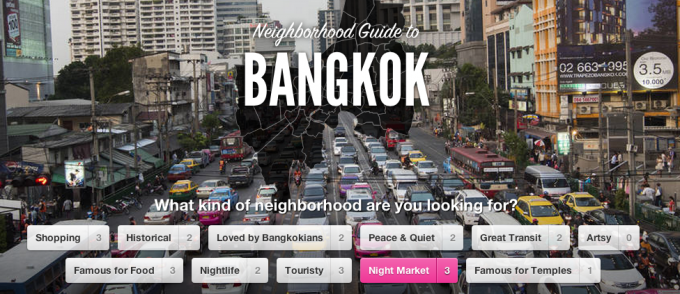 So far there are 15 cities with this service, and though Bangkok is the first in Asia, we suspect it won't be the last. In the meantime, travelers in Thailand would do well to check this out; it could be a way to find a place to stay that's cheaper and closer to the things you really want to visit in the city.