China suffers from some serious air pollution problems, and the reality is slowly setting in: it's going to get worse before it gets better. China's health-conscious population is growing accustomed to donning face masks when outdoors, but indoor air pollution is also a fast-emerging concern. We've already seen the trend expand toward cheap DIY air filters to help remove damaging particulate matter indoors, but there's not been an equally cheap way to monitor air quality in the home.
In recent months, however, we've seen a few hardware startups sprout up with their own solutions to this problem. These budget indoor air quality monitoring equipment for consumers cost far less than their professional counterparts. Luckily, this new wave of devices designed for home use is quickly driving prices downward, and it won't be long before they become a staple of every urban dweller's living room in China and other polluted regions.
Although this newcomer's name sounds a bit simpleton, it's probably the most advanced on this list. A full-featured climate monitoring station, Airnut measures temperature, humidity, carbon dioxide, and particles in the air smaller than 2.5 micrometers in diameter (PM2.5). The slick-looking sphere was created by Moji China, which also makes a popular weather app. Airnut's display is gesture-controlled – just swipe your hand in front of it to change the reading. All the data syncs with an app on your smartphone. Airnut also makes a compatible outdoor version so you can compare indoor and outdoor weather and air quality. Airnut is currently taking reservations from prospective buyers on its website. The main device will cost a modest RMB 999 (US$160).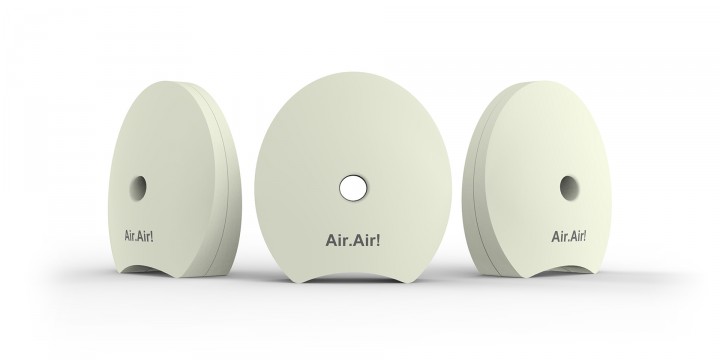 Air.Air! isn't as feature-rich as Airnut, but it's portable and comes at just a fraction of the cost. After failing to meet its crowdfunding target on China's Demohour, the device surpassed its US$20,000 goal on Kickstarter back in October. The Shenzhen-based company placed heavy emphasis on simplicity, both in looks and functionality. Air.Air! measures temperature and PM2.5, which is sent to the smartphone app. Unfortunately, there's no readout on the actual device, but Air.Air! is a steal at just US$59 on Maker Studio.
See: Crowdfunded in China: tablet assault rifles, smart cooking pots, Roomba's Chinese nephew, and more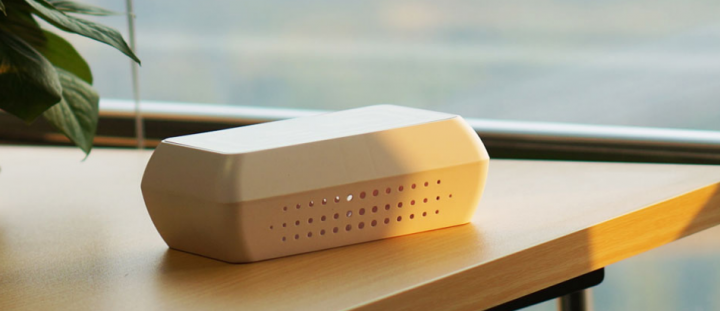 From Beijing's Tsinghua University, PiMi may not have the looks of Airnut and Air.Air!, but it claims to take more accurate readings than its budget competitors. Essentially, all these devices use lasers to check for dust particles in the air, but the PiMi team argues these readings can be thrown off by the amount of light in the surrounding environment. That's why PiMi is built to automatically calibrate itself to the light in a room for more accurate readings. PiMi also measures temperature and humidity, which is all synced to its smartphone app and can be viewed on the digital readout. Users can also choose to send their readings to the cloud for aggregation with other users' data, creating a crowdsourced map of air quality that PiMi plans to use for a healthy air campaign. PiMi hasn't released price or release date details yet, but is aiming at budget-minded consumers.
This sexy cylinder from France successfully ended its Indiegogo campaign of $15,000 at the end of February. Alima measures a wide range of data: VOC (including gases such as formaldehyde, benzene, ethylene glycol and acetone), PM2.5, carbon dioxide, carbon monoxide, temperature, and humidty. The device looks great, but lacks an external display. All the data is synced with an app on the user's smartphone. One useful feature is Alima's predictive analytics, which can forecast pollution trends. In terms of breadth of information, Alima might well be the most sophisticated of the bunch, but it comes with a higher price tag than the rest. Alima is available for pre-order for €169 ($232) and ships to buyers in October.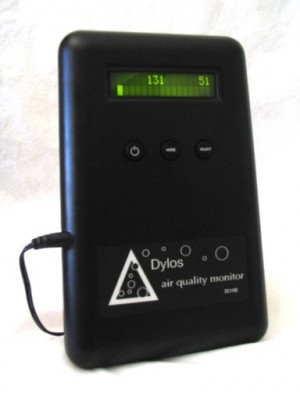 The old stand-by, Dylos is the veteran player among air quality monitors with a full range of devices starting at US$200. The design screams utilitarian – a 2.5 lbs black box with a black and green LCD readout. It's not the most intuitive to use, but it measures both PM0.5 and PM2.5 and stores the data for up to 30 days. The Dylos doesn't come with a smartphone app like its competitors, but you can certainly count on it to take accurate readings, and it's available right now.