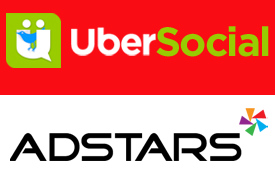 Adstars is an ad network company which has shown very fast growth. And now it has been chosen as the exclusive in-country advertising partner for Twitter app UberSocial in Indonesia by UberMedia. It is indeed a big step forward for them to build on their mobile advertising momentum thus far. UberMedia's VP of advertising, David B. Palan, noted:
We had been working with AdStars throughout 2011 and have been impressed with their performance and professionalism. In October we decided to make them our exclusive in-country advertising partner and are currently referring all leads to them.
Pandu Wirawan, the chief operational officer of AdStars Indonesia, further explained:
We all know that UberSocial is now the market leading Twitter application and 87 percent of Indonesian tweets come from mobile devices. This bring an opportunity for advertisers to reach affluent Indonesian users on the right medium.
Here's how UberSocial has been used by Indonesians in the fourth Quarter of 2011 and how it has been performing, monthly:
| Device | Impressions | Clicks | CTR | Unique Users |
| --- | --- | --- | --- | --- |
| iPhone | 10000000 | 40000 | 0.4% | 28000 |
| iPad | 600000 | 2000 | 0.3% | 1400 |
| Android | 80000000 | 500000 | 0.6% | 350000 |
| Blackberry non-touchscreen | 86000000 | 300000 | 0.3% | 210000 |


With a total of 200,000,000 impressions, it averages 0.4 percent CTR and the gender breakdown is 60 percent female and 40 percent male.
The stats above show that Blackberry is indeed the largest market for UberSocial so far, but Android is catching up fast. When asked about 2012, Hary Kurniawan, the senior business development manager at Adstars, said that If we look into the growth of mobile users in Indonesia, we expect a 70 to 80 percent increase of impressions throughout 2012.
This expectation is based on the assumption more and more Android OS phones are coming to Indonesia, with more affordable prices. We expect traffic will increase significantly from those devices. Based on Adstars statistics, CTR is better from Android devices, so we can conclude that if the growth of Android phone increase in 2012, then click through rate will more or less increasing as well.