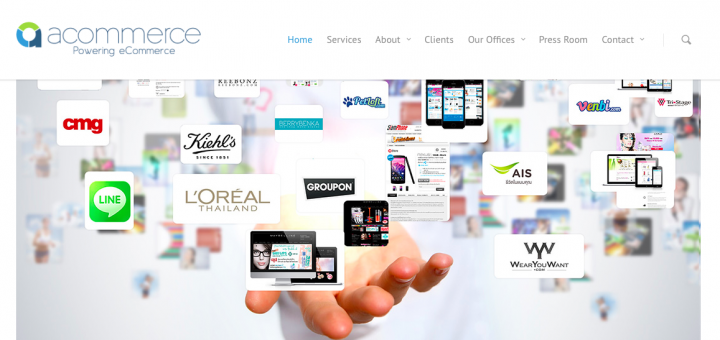 Thailand-based ecommerce service provider aCommerce has just closed its series A venture capital round of US$10.7 million. Organized by its founding investor, Ardent Capital, the round was led by Bangkok-based Inspire Ventures with participation from NTT Docomo, Sumitomo Corporation Equity Asia Limited, Sinar Mas Indonesia, Asia Pacific Digital, CyberAgent Ventures, JL Capital, strategic angel investors, and key executive staff.
This investment is the largest series A for a Thailand-originated venture and one of the largest in Southeast Asia to date, says Paul Srivorakul, regional CEO and founder of aCommerce. Another large series A round of recent memory was GrabTaxi's fundraising of reportedly over US$10 million.
Srivorakul plans to use the new funds to strengthen its ecommerce logistics infrastructure, as well as invest in order management, warehousing, and delivery management systems.
See: With new investment, Dentsu wants to make it easier to manage an ecommerce site
Josephine Chan, vice-president of Sumitomo Corporation Equity Asia, explains the reason behind her company's investment:
"aCommerce is solving a major pain point in ecommerce logistics and backend fulfillment, and is helping to accelerate ecommerce market growth across Southeast Asia."
Founded in June 2013, aCommerce has 250 staff in four offices in Thailand, Singapore, Indonesia and Philippines. It plans to tackle Malaysia and Vietnam next. Srivorakul says:
Thailand and indonesia are the largest and most mature markets with fastest growth. We just started in Singapore in February and that has helped generate regional partnerships and sales such as the one with HP. We just started in Philippines and are now working to close some major retailers.
See: Tech in Asia Bangkok Meetup: ecommerce is sexy, even during a coup
A validated business model
A few weeks ago, Alibaba invested US$249 million into one of aCommerce's biggest competitors, SingPost. The company is Singapore's national postal service which operates a division called SP eCommerce. Srivorakul says the deal validates his business model.
"We think this news … will create an urgency from local, regional, and global companies to start ecommerce in Southeast Asia. This is similar to the Rocket Internet investment back in 2012. We hope to leverage this news to establish strategic partnerships with all the others players such as Transcosmos, Amazon, Ebay, JD.com, Rakuten, Lazada, Tencent, and iBuy and hopefully Alibaba too. We also are not competing with our clients like SingPost by creating competing retail sites like Omigo."
Srivorakul believes that Alibaba's investment into SingPost will inspire other big global ecommerce players to seek out similar partnerships in Southeast Asia:
Alibaba is known to have investments in many competing ecommerce logistics and tech companies in China to drive and support their Tmall and Taobao. I do not see the SingPost deal impacting the Southeast Asia markets outside of Singapore. We are focused on the Southeast Asia markets that SingPost is not strong in such as Philippines, Thailand and Indonesia. SingPost has always had more capital than us (with a market cap of US$3 billion) so them raising more money isn't going to change much. It's all about execution and we think we have the advantage because of our drive, experience, tech, local teams, and head start.
Although aCommerce can't disclose the valuation of the company at this moment, it confirms that Ardent Capital is still the majority shareholder post-series A.
Besides SingPost, another regional competitor is Singapore-based Anchanto, which also raised a series A round recently. It did not disclose the size of the deal.