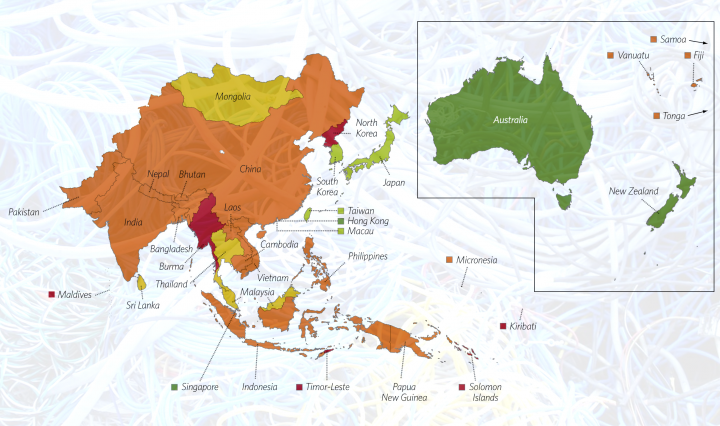 Split Asia Pacific into two thematic categories: developing Asia and developed Asia. On the one side, there's Australia, Japan, South Korea, Taiwan, Hong Kong, and Singapore. On the other side, you've got the Philippines, Indonesia, Malaysia, Vietnam, Cambodia, Laos, Thailand, Myanmar, India, Nepal, Pakistan, Bengal, North Korea, and arguably China.
You could argue that there are actually three Asias: developing Asia, developed Asia, and China. China, is not only isolated from the other nations, but the nature of its economy and government as well as the overall scale of the population and its subsequent markets puts it in a world in its own. As Yasheng Huang noted, "China is a superstar in terms of economic growth. If you are a NBA player and you are always being compare to Michael Jordan, you're going to look not so impressive. But that doesn't mean you are a bad basketball player. Comparing to a superstar is not a good benchmark." But let's set that aside for a moment. China is still an emerging economy, and all of us can agree that China is still quite a far ways away from where Japan's overall society is.
Northeastern Asia is full of Westernized nations. They're years and sometimes decades ahead of the latter list. The average internet and smartphone penetration in these areas sits well above 70 percent. This also means the business people in these nations know exactly what to expect as they watch the rest of Asia develop. They've seen the tech trends play out in their home countries, and as their domestic markets plateau, they're looking at markets that are easier to attack and where fresh money is to be made.
A few case studies
Myanmar is a perfect example of this. Its internet penetration and cellphone penetration still sit below 10 percent but everyone is betting it will explode. There's an onrush to pour in investment to be first movers. Telcos want to grab the huge 55 million population as they come online. But at the moment, there are only a few startups to invest in, like Squar.
Over in Thailand, a place that is currently waking up with startup fervor, startups are getting investments from abroad. CyberAgent Ventures has openly stated that it has earmarked $20 million for Southeast Asia with a keen interest on Thailand. CyberAgent, which is a Japanese venture firm, has invested heavily in Vietnam already and is bringing in larger non-VC investors into the region like Sumitomo, which invested in Tiki.vn from Vietnam. Thailand is up next for the firm.
In Vietnam, Russians, Americans, and now Japanese are fervent investors. After talking to Nguyen Hoa Cuong, deputy director-general of the ministry of planning and investment, he noted that South Korea is up next to start investing in Vietnam. "South Korea is in the same stage as Japan was about five years ago, it's just a matter of time before their investors and businesses start looking at Southeast Asia more aggressively." This trend is something we can see across the region.
These are not isolated events, they're happening across the region in many shades. Oftentimes, the trend starts out as investments in more brick-and-mortar businesses before tech investors get involved.
The Asian investor has the advantage
Investors in Silicon Valley have gone through several phases in Asia over the years. It was the hype of the early 2000's that eventually turned off American investors to a world that they didn't quite understand. But Asian investors are different.
Although cultures across Asia are as diverse as you can get, Asians still understand each other better than Westerners understand Asians. Most Asian economies grew just in the past fifty years. They're also imbued with similar religious and societal values of face and family. But most importantly, they understand where things are headed in the developing nations. They can anticipate trends. They see what businesses need to grow and where to place their bets. They're willing to place bets where local investors aren't willing to take risks. And at the end of the day, this can only mean one thing. There's going to be more money in Asia, and that money is going to be smarter.
The beauty of a diverse continent versus the Silicon Valley bubble
Unlike Silicon Valley, which is a bubble, Asian countries are forced to look beyond their borders for growth and opportunities. Not only are startups increasingly looking at tackling non-domestic markets but investors are also looking at regional startups. In other words, Asia is way more open than the Silicon Valley. And now that the money and ideas are flowing across borders, it's just a matter of time.
We're already seeing the power of the region with huge valuations in China like Xiaomi and Tencent, as well as the explosive growth of Line and KakaoTalk across the region. The momentum isn't stopping and more startups are coming soon, they'll soon be looking at the West for growth.
Let me leave you with one final thought on this from Martin Jacques, the economist. If you read it carefully, you'll see it applies directly to where Asia's tech startup scene is today and where the West will be once Asia is done with it:
The West thinks of itself as the most cosmopolitan of all cultures but it's not. In many ways, it's the most parochial because for 200 years the West has been so dominant in the world that it's not really needed to understand other cultures, other civilizations…whereas those cultures have been forced to understand the West because of the West's presence in those countries. They are, as a result, more cosmopolitan.
(Editing by Josh Horwitz)