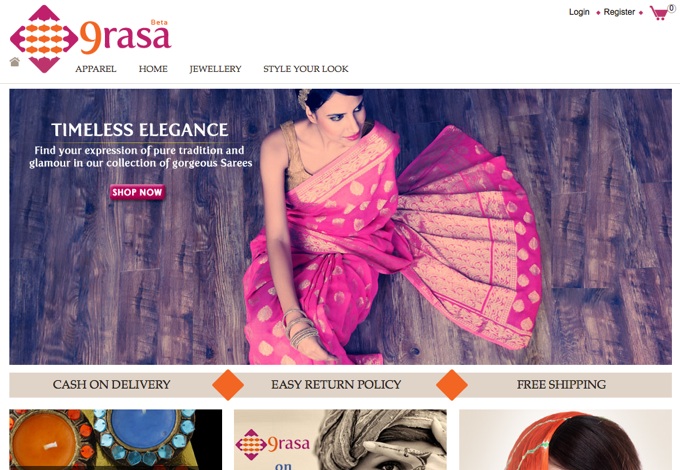 Indian flash sales site 99Labels has expanded this month with the launch of 9Rasa.com, which is a more conventional e-commerce site that specializes in traditional-style clothes, jewelery, and home decorations. Though not quite the same as designer-sourced stores like Fab, it focuses on handpicked items with a distinct brand-free flavor. The new site is not limited to shoppers in India, and will ship to Australia, Canada, Hong Kong, Singapore, the UAE, UK, and US.
The co-founder and CEO of 99Labels, Ishita Swarup, tells us from the startup's New Delhi offices that the different model means that 9Rasa is more like a "catalog" e-tailer and so products remain on sale for longer than on a flash sales site. She adds that "delivery cycles are shorter, with the shipping cycle being three to five days from order."
Keeping with the traditional feel of the site, Ishita says that organic foods and products will be added to 9Rasa soon.
She claims that there's no rival in this kind of "ethnic space" online, and she feels that these Indian-made and traditional items will be popular worlwide too.
We have sourced and carefully curated a collection of handpicked products from all corners of the country to offer to our consumers like intricate silver bracelets and earrings from Rajasthan, a gorgeous phulkari dupattas from Punjab, delicately worked sarees from Benaras – and much more.
The last time we heard from Ishita was back in December of last year when 99Labels had just passed the million users milestone. The co-founder says that the numbers are going nicely:
We have a member base of about 15 lakh [1.5 million] now, many of whom are regular, active shoppers on 99labels. In fact, 70 percent of our buyer base comprises of returning members.