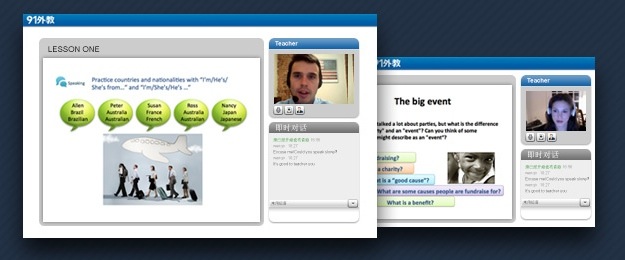 Education site 91Waijiao is a learning platform that connects Chinese of all ages with foreign English teachers. It's a neat idea to disrupt China's 'English as a foreign language' (EFL) market, which is said to be worth over $2 billion per year. Investors seem to agree as 91Waijiao has attracted $4 million in funding from William Ding, CEO of Chinese internet company Netease (NASDAQ:NTES). He now takes an effective 20 percent stake in the online education startup.
91Waijiao is founded by one of China's top female tech entrepreneurs, Rose Gong, founder of the country's top dating site, Jiayuan (NASDAQ:DATE). She had already invested about $650,000 of her own money into 91Waijiao before it launched, and she has vowed to plough in a further $1.6 million in due course. Rose told Chinese media over the weekend:
The next few months will be focused on recruiting talent and raising capital for the company. The company's shareholder structure and financial situation will be announced at an appropriate time, but as the company's founder, I will definitely remain its controlling shareholder.
91Waijiao's EFL teachers are located in their home countries, and they teach online to the site's students in the interactive dashboard that features video, text chat, and slideshows.
Rose left the CEO role at Jiayuan in December 2012, and now remains connected only as a non-executive co-chairman to the struggling dating site.
Netease's involvement in the education startup is interesting because Netease already has an informal, free online education platform of its own at open.163.com. It's not clear if Ding's investment will mean that 91Waijiao's English lessons will be partially incorporated into that, or promoted there in some way.
(Source: PE Daily and Marbridge)
(Editing by C. Custer)