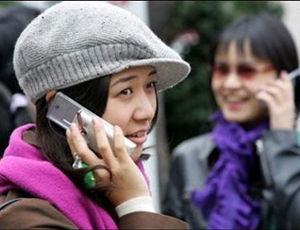 Mobile phone use in China has been growing steadily and swiftly over the past decade, and according to China's Ministry of Industry and Information Technology (MIIT), the country has just broken an important milestone. With more than 1.1. billion mobile users in the country, and with 82.6 percent of the population using mobiles, China has finally broken past the world average level for mobile phone proliferation (which is around 80 percent).
Of course given China's growth trends, this shouldn't really come as a surprise, and it's not clear exactly when China first inched above the worldwide average (probably sometime in late 2012). And of course, 3G is growing in China too (though it's nowhere near 82 percent proliferation yet). In fact, even the internet is going mobile.
And if MIIT's statistics are any indication, China's mobile growth isn't likely to slow any time soon, as six of the country's provinces actually average more mobile phones than there are people. Beijing averaged a whopping 157.2 mobile phones per hundred people, and Shanghai wasn't too far behind with 128 phones per hundred people. Guangdong, Zhejiang, Fujian, and (surprisingly) Inner Mongolia also averaged more than 100 phones per 100 people. (This is possible because some people have more than one phone; for example work and home mobiles, or different mobiles so they can access different telecom carriers).
Inner Mongolia's presence on that list (even though at 102 mobiles per 100 people it barely made it) is a sign that China's less-developed Western provinces are also getting in on the mobile madness. With so many total mobile users, growth rates will have to slow down, but I still wouldn't be surprised to learn that within a year or two, China actually has more mobile phones than it has people.
(via Sina Tech, image source)