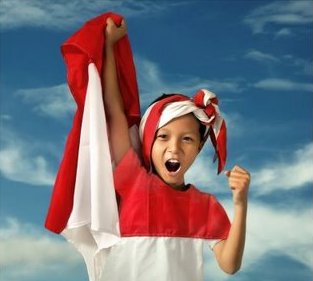 In light of today's Indonesian 67th Independence Day, we thought it would be cool to remind Indonesians both abroad and at home how fun Indonesia really is. Here is a list of games that should make you feel a bit closer to home:
1. Panjat Pinang (Pole Climbing)
It is a tradition on Indonesian Independence Day to hold pole climbing competitions. Numerous prizes are tied at the top of the pole, and participants must work together to climb and reach the top of the pole to claim the prizes. To make things even more challenging, the poles are usually oiled up!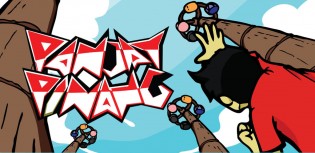 Should you want to be the hero who climbs up the oiled pole, you can do so from the new Panjat Pinang game, newly brought to you by Indonesian game developer Amikom Games just this month. You can download it for Android here.
2. Tap Tap Ghost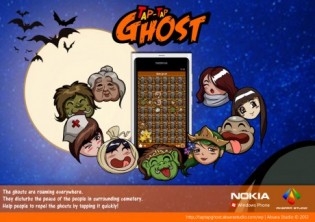 According to DailySocial, this is the first Indonesian game made for full touch Nokia Asha phones, developed by Aksara Studio. You can check out the fun Indonesian ghosts such as Pocong, Nyi Roro Kidul, and even Suster Ngesot (the "crawling nurse") in this game.
How do you play the game? Tap the ghosts! The game is available on Windows Phone, you can download it free here.
3. Jumping Granny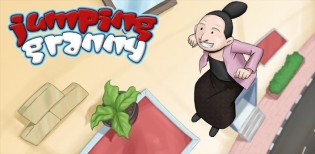 This is another Android game made by Amikom. It was released in July and it is also another Indonesian cultural game because the granny is wearing Javanese traditional clothes like the kemben and sarong.
How to play this game? You jump, and make sure the granny doesn't fall flat to the ground. The story is about the granny trying to rescue her grandson who was abducted by aliens, that explains the jumping part. You can download the game here.
4. Raid the Rats
This is an interesting game for iOS with a corruption-fighting theme made by a 13-year old Indonesian boy Fahma Waluya Rosmansyah. That would explain the quirky game graphics and the drawing style like a child's. But come on, a 13-year old boy from a developing country building a game? That's awesome!
The Indonesian Garuda symbol acts as the game's hero while the so-called "corruptors" are depicted as rats in the game. The Garuda will shoot away all the pests with its awesome bazooka – nice! In between, the game will teach users about 'corruption' in the school environment, such as cheating and giving gifts to teachers.
Finishing the game should be quite quick, however as it only has three stages. It is available free to download here.
5. Selamatkan Jakarta (Save Jakarta)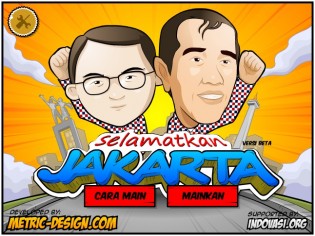 Selamatkan Jakarta is a unique game made to support a candidate for the next Jakarta governor election to be held in September. It's made by Metric Design. As we mentioned yesterday in our brief review, the Angry Bird-like game has been played over 50,000 times since its release last week. It uses Jakarta-themed backgrounds such as Tugu Pancoran and Monas. You can also bomb any Indonesian corrupt officials. The Flash-based browser game can be played here.
6. Mad Warrior
This game might remind Indonesian people of the classic Wiro Sableng with his fire dragon axe 212 back in the 90's (pictured left). Mad Warrior's hero wears the exact same clothing and has a very similar weapon with the Indonesian folklore hero. It is made by Nightspade and is available for iOS.
The game is quite wacky. We control and help the mad warrior kick some enemies' ass in a linear running mode. It was released last year, but it still looks fun and would make a good holiday time-suck. You need to pay $0.99 to download it though, and you can get it here. But if you don't fancy paying, you might want to at least check out the video below.
7. Komodo Island Newborn Wonders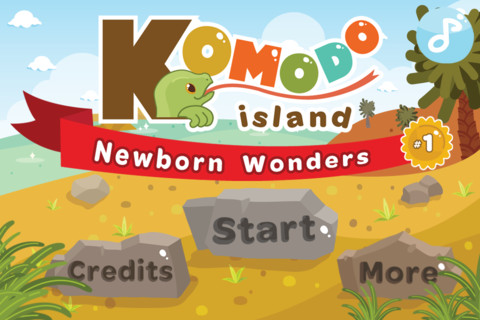 This particular game is for children. It's really simple. This is an edutainment card-matching game made by Nightspade to teach children about Komodo Island which we have talked about before. The island is a natural habitat for Komodo dragons, which is the largest lizard on earth. Indonesia is also proud of the island because it is one of the New Seven Wonders of Nature.
The game is available free on iOS and on Android. Of course, adults who are interested to learn a thing or two about Indonesia's great wonder of nature can also give this a try.
8. Football Saga 2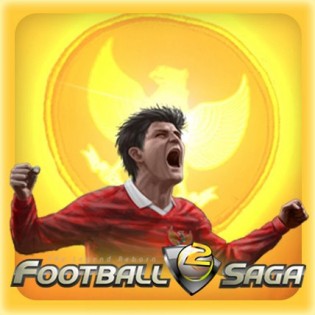 My colleague looked into this game in detail earlier this evening. Football Saga 2 is a football management simulation game. Users will need to train the player based on the desired position, whether it is a midfielder, striker, or even a goalkeeper.
The player can then can sign for football clubs in Indonesia such as Bandung Grizzlies, Denpasar Wave, and Jayapura Pearls. Agate Studio, the game developer, said that it's going to provide as many as 320 clubs for the open beta version in the future. You can play the game with your Facebook account here.
---

Indonesia is a great country with diverse cultural heritage ready to be showcased to the world. We hope the such culture-oriented game development continues stronger than ever in future, and thank you Google for reminding the world about Indonesia's national holiday today. Happy 67th Independence Day, Indonesia!
[Sources: Detik (inc. picture), DailySocial, and Kompas #1, #2; Pictures: Sethskim.com, JalanSutera.com, nnranma.wordpress.com, Cengir-Kuda.blogspot.com]