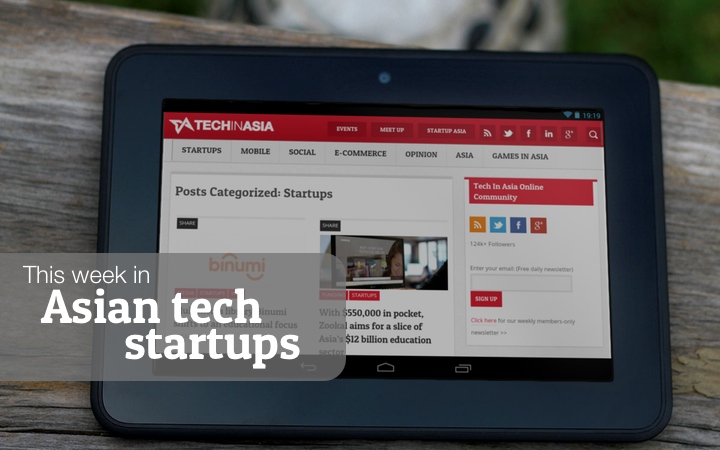 Here's our newest round-up of the featured startups on our site this week. If you have startup tips or story suggestions, feel free to email us or tell us about your startup on this form. Any juicy tech news tips go here. Enjoy this week's list!
CoinJar is an Australian startup that serves as a Bitcoin wallet, and also operates a payment gateway that enables merchants to accept payments in bitcoin. The startup recently secured a seed round led by Australian venture capital firm Blackbird Ventures.
---
Singapore-based 8villages helps connect farmers and agribusinesses together through its platform, allowing a more transparent flow of information within the agriculture value chain. The company has completed its convertible note pre-Series A round from IMJ Fenox.
---
Launched in August 2012, Blued is a gay chat and hook-up app for Chinese guys. Earlier this year, the startup got funding (in millions) to help it grow. It has since acquired two million users, and is working on an app dedicated to China's lesbians called Pinkd.
---
MoneyTree is a personal finance iPhone app from Japan, which was launched in April this year. The startup has secured their new seed funding round which is worth a sizable $1.6 million.
---
Eventifier is a Bangalore-based event content aggregation web platform with a a social media content aggregator tool that automatically archives fragmented audience-generated content about an event using hashtags from around the web. The startup announced this week that it has secured funding from Accel Partners and KAE Capital.
---
Japan's Crowdworks gathers app and website developers, writers, and graphic designers throughout Japan to work on jobs for hundreds of companies. It has closed a funding round from CyberAgent, DG Incubation, and Denstu Digital Fund 1 to expand and diversify its crowdsourcing platform.
---
Launched back in March 2013, Singapore's Coda Payments works with telcos to implement easy payments for digital products. The company has secured Series A funding from GMO Global Payment Fund, Rakuten Ventures, CyberAgent Ventures, Golden Gate Ventures, and Skype co-founder Toivo Annus.
---
Retty is a restaurant finder and booking service from Japan that secured another major round of Series B funding from Itochu Ventures, Mizuho Capital, and other undisclosed investors. to help it grow.
---
China's Zhan Tai is dating app for iOS and Android with a surprising twist; a sort of social network for meeting people who commute the same way you do on the subway.
---
Launched just last week, Hong Kong-based Bigcolors lets regular people invest in startups and even trade shares in them as if they're listed companies like Apple or Google.
---
Launched last year, Kalibrr has the aim of teaching Filipinos the right skills for an outsourced job usually as a customer service representative. This week, the startup announces that it has raised $1.9 million from global investors Omidyar Network (co-founder of eBay), Siemer Ventures, Learn Capital, Kickstart Ventures, and several other angel investors.
---
China's Pooshup is a simple exercise app that uses your phone's proximity sensor to count push-ups. The app was also the winner of Startup Weekend Shanghai.
---
Homie is a Singapore-based find-a-roommate website that was founded by entrepreneur and investor Darius Cheung. The platform, which focuses on Singapore for now, has been in open beta since October 2013, and has since garnered over 5,000 monthly visitors and over 1,000 unique locations.
---
TextTeaser is an automatic summarization algorithm API from the Philippines. It's a way for users to summarize an online article by just pasting a link or the text of an article on the site.
---
Singapore's Feecha which originated as a location-based microblog, has since pivoted into a location-savvy news reader app that lets users pick the locations first before selecting content.
---
Started by ex-Rocket and Groupon guys, CompareHero wants to help users make informed choices by comparing credit cards, loans, insurance policies, and even mobile and internet plans on a single website.
---
Launched last week, Indonesia's Project Shoe is a shoe e-commerce platform that lets people create their very own designer shoes. The startup recently pitched its idea during the Startup Arena competition at Startup Asia Jakarta 2013.
---
Singapore's Dealguru, which owns Deal.com.sg (Singapore) and Mydeal.com.my (Malaysia) has been acquired by Malaysia and Singapore-based entrepreneur Patrick Grove on a shopping spree where he will acquire a number of flash sales businesses in Hong Kong, Singapore, and Malaysia through his company iBuy Group.
---
Startup lists
---
Related startup stories
---
Click here for a full recap of our Startup Asia Jakarta 2013 conference.
---
Like RSS? There's always our Asia startups RSS feed!