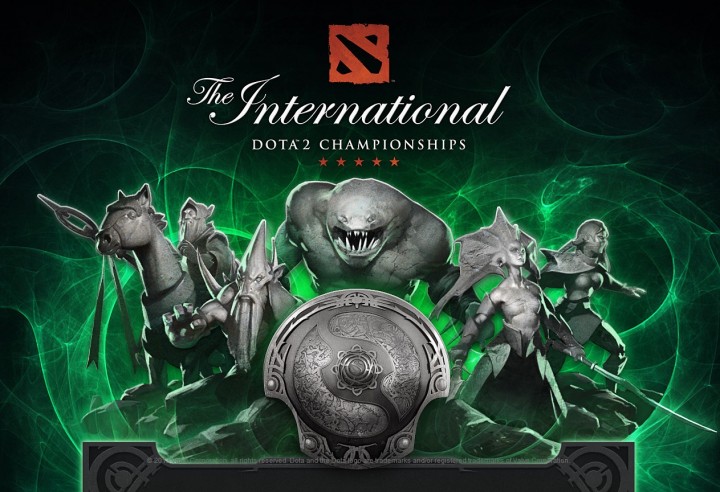 The biggest prize pool for a single tournament in e-sports can be found at The International DOTA 2 Championships 2013, which are set to take place in Benaroya Hall in Seattle, Washington, from August 7 to 11. What makes The International DOTA 2 Championships (TI3) an awesome must-see event is not just the prizes and production values, but also the fact that it brings together 16 of the best teams from the East and the West. And unlike regular online play, the fact that the tournament happens over LAN allows for these East-vs-West matches to run speedily without lag and ping issues and other online tournament hassles.
Asian teams dominated last year's event (TI2) where they took seven of the eight top spots (the single European team, Natus Vincere, took second). With European teams like Team Alliance and Natus Vincere winning recently-concluded Chinese tournaments (the G-1 Champion's League Season 5 and the Alienware Cup respectively), some are wondering if Asian teams can still dominate this year's International the way they did last year. Let's take a look at how the Asian teams for the International 2013 are performing as of late. How has their play style changed, improved and adapted so far? Here are the teams:
1. Invictus Gaming (China)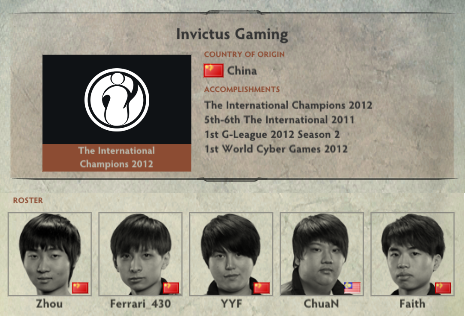 Invictus Gaming or simply iG has been considered by many to be the top Asian team since their win at the International 2012. Their flawless execution and amazing synergy allowed them to dominate the Asian scene and achieve a six-month long winning streak. However, their recent underperformance has led many to question their current roster's synergy and play style. There have been instances where iG seems to be taking a shot at playing European style and sometimes seems to be either experimenting or struggling with drafts. There has even been more than one instance where they drafted a Wisp – a hero that the Chinese teams said they would not pick up.
Although their current form won't grant them an easy ticket to the top ranks at TI3, we can't just count them out of the competition just yet. iG has had a solid non-changing player roster since prior to TI2, granting them the kind of team synergy that can only be acquired over time. Their performance at TI3 will be determined by how they can emerge from their current funk and return to their old ways.
Current Roster
Chen "Zhou" Yao (Captain/1)
Luo "430" Feichi (2)
Jiang "YYF" Cen (3)
Zeng "Faith" Hongda (4)
Wong "ChuaN" Hock Chuan (5)
Alienware Cup – Lower Bracket – Orange vs iG – Game 2
2. LGD Gaming.cn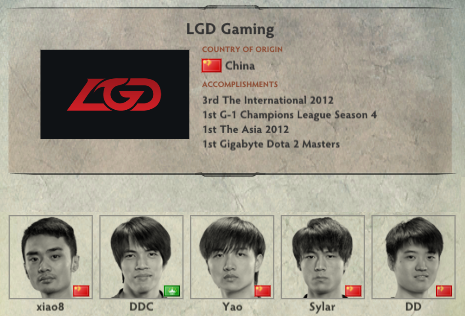 Although they finished third in last year's International, LGD Gaming.cn – or simply LGD.cn – dominated the TI3 preliminaries by being the only team without a loss. Their first taste of defeat came later in the winner's bracket finals against Natus Vincere and was then followed by their second and final loss to Invictus Gaming. Since then, LGD.cn has been working on improving their strategies and play style in order to adapt to the changes not only in the game itself, but also in the playstyle of the competitive scene more commonly known as the metagame. Another advantage that LGD.cn has is the availability of their international counterpart, LGD.int consisting of five experienced players from the West, giving them some experience with European and North American play styles. They can also test more strategies against their international team with less worry compared to scrimming with other teams. LGD.cn hasn't had the winning streak that iG had, but the group's performance has slowly but surely been building as they head towards TI3.
Current Roster
Zhang "xiao8" Ning (Captain/2)
Liu "Sylar" Jiajun (1)
Yao "Yao" Zhengzheng (3)
Xie "DD" Bin (4)
Leong "DDC" Fat-meng (5)
The International 2013 Championships – East Qualifier Grand Finals
3. TongFu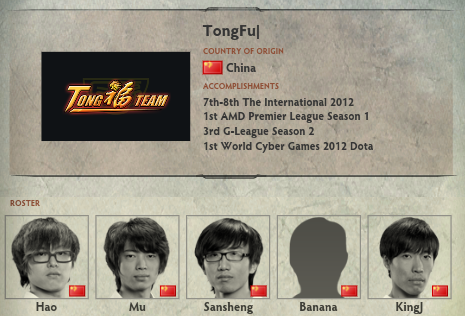 Roster changes can be good or bad; in the recent case of TongFu, the changes may well have been for the better. TongFu tied for 7th at the International 2012, but were known to be the worst-performing Chinese team in the main event. After this, TongFu underwent significant roster changes, the last one being the acquisition of Yang "KingJ" Zhou and Jiao "Banana" Wang. Since then, TongFu has significantly improved and has become a Chinese powerhouse as of late. In fact, it is this roster that took a game off iG in the last DOTA 2 Super League, successfully ending that team's six-month winning streak. Although TongFu does not have a player roster that has been playing together for as long as the other Chinese teams, their current chemistry and improvement pace is definitely something to look out for.
Current Roster
Zhi Hao "Hao" Chen (Captain/1)
Pan "Mu" Zhang (2)
Yang "KingJ" Zhou (3)
Jiao "Banana" Wang (4)
Zhao Hui "Sansheng" Wang (5)
DOTA 2 Super League – Grand Finals – DK vs Tongfu – Game 1
4. Orange.Neolution Esports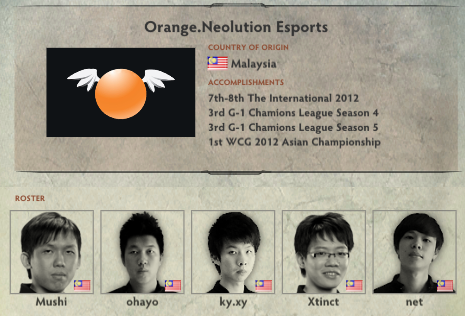 Orange.Neolution Esports — or simply Team Orange — may be considered the top Malaysian DOTA 2 team at the moment. They are led by the Chai "Mushi" Yee Fung, known to most as the "M-God". When they lost three significant team members in early 2013 many were doubtful and skeptical. There were those who expected Team Orange to significantly fall behind. The fact that they have won eight significant tournaments since their 2013 reformation proves otherwise. This team has proven to be very flexible with regards to heroes and seems to be notably experimenting on heroes for different roles as of late, and getting various results in the process. Team Orange currently has six members on the roster, but only five are going to attend the International 2013.
Current Roster
Yee Fung "Mushi" Chai (Captain/1/2)
Joel "XtiNcT" Chan Zhan Leong (4)
Kang Yang "kYxY" Lee (1/2)
Wai Pern "Net" Lim (5)
Chong Xin "Ohaiyo" Khoo (3)
G1League – Phase 3 – LGD.int vs Orange – Game 3
5. Invasion MUFC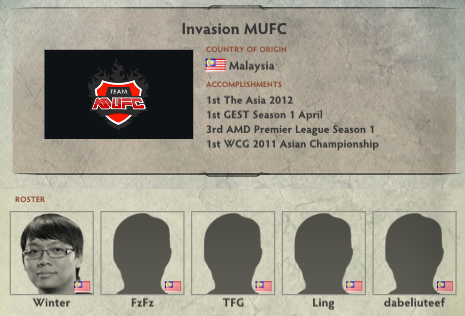 In January 2013, MUFC e-sports disbanded totally and all of their players went separate ways. Two months later, the team returned with a new roster led by Litt-Binn "WinteR" Chan who, at the time left Team ABC along with Daniel "TooFuckingGood" Wong. Compared to other teams, Invasion MUFC has a fairly new roster, which has led many to wonder about their synergy and experience as a team. Since the formation of their new roster, they have won two championships including a championship win against Vici Gaming, one of China's top teams. Like Team Orange, Invasion MUFC also has a six-man roster, but will only be taking five to TI3.
Current Roster
Litt-Binn "WinteR" Chan (C/5)
Jun Liong "dabeliuteef" Loh (1)
Cheng Hor "FzFz" Siew (2)
Daniel "TooFuckingGood" Wong (3)
Woi Cheong "Ling" Sim (4)
GEST: The Challenge LB Finals – LGD.cn vs MUFC – Game 2

6. Team DK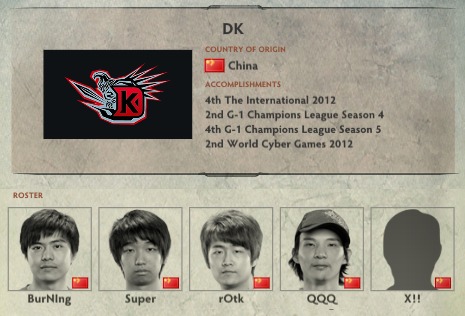 In last year's International, Team DK finished 4th after losing to iG in the loser's bracket. Team DK is popular for their near-flawless execution of its 4-protect-1 strategy. This is most probably due to the fact that their captain Xu "BurNIng" Zhilei is one of the top farming carries in the world and is referred to as "B-God" by many. Like any other team, Team DK also encountered problems that led them to change their roster after TI2. Team DK's current roster seemed to struggle as it became easier to shut down their 4-protect-1 strategy along with the changes in the game mechanics as well as the metagame. It took awhile for Team DK to respond accordingly, but it was able to bounce back. Although not as dominant as before, Team DK still maintains its spot as one of China's powerhouse teams. If they continue to find ways to take advantage of BurNIng's carry skills without being shut down easily, Team DK definitely has a shot at taking the International 2013.
Current Roster
Xu "BurNIng" Zhilei (C/1)
Xie "Super" Junhao (2)
Bai "rOtk" Fan (3)
Yao "QQQ" Yi (4)
Lei "X!!" Zengrong (5)
G1 League – Phase 3 – DK vs LGD.int – Game 1
7. Team Zenith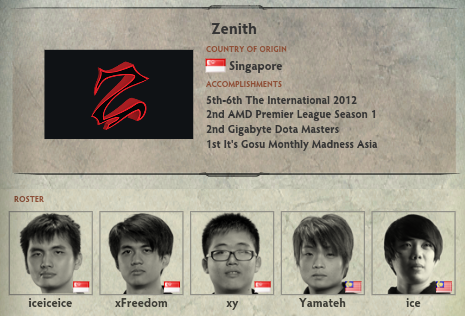 If we talk about versatility and unpredictability, Team Zenith has it. Team Zenith is the only Singaporean team to participate in the International 2013. In last year's international, they participated and finished 5th/6th with Jonathan "Loda" Berg and Benedict "hyhy" Lim. It wasn't long afterwards before Loda left for No Tidehunter (now known as Team Alliance) while hyhy left DOTA 2 and moved to League of Legends. The loss of these two players caused a blow to the team's performance until they formed their current roster by adding Wei Poong "YamateH" Ng and Chee Cai "Ice" Chua.
One of the major strengths of this team is the ability of its players to effectively use a single hero for different roles and in different ways in competitive matches. This allows for a variety of lineups as well as unpredictability not only during drafting, but also during the game. It also allows for them to improvise mid-game, which greatly helps when needing to comeback. Team Zenith, however, is prone to wobble in execution and may tend to be complacent. Since this is the International 2013, however, we can expect Team Zenith to be as serious as it gets. After all, Daryl "iceiceice" Koh won't go as far as playing in boxer shorts for nothing, right?
Current Roster
Daryl "iceiceice" Koh (C/3)
Wei Poong "YamateH" Ng (1)
Wai Hong "xy-" Toh (2)
Nicholas "xFreedom" Lim (4)
Chee Cai "Ice" Chua (5)
G1 League – Phase 3 – Zenith vs DK – Game 2
8. RaTtLeSnAkE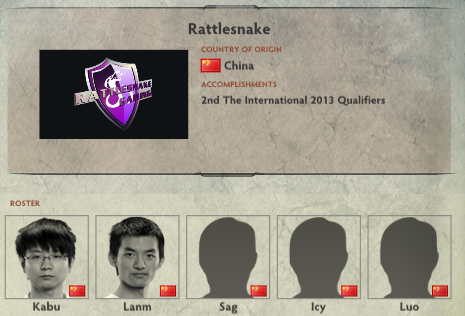 Compared to most teams, Rattlesnake is a very new team formed in January this year. Make no mistake, though; this team may be new, but its members definitely aren't. Dubbed as "the veterans' new team", Rattlesnake is comprised of five experienced players who once played for China's top teams over the years. This experience, perhaps, is what gives them the confidence to try out unusual heroes and strategies. Of course, this involves risks, but no one wins from playing too safe all the time. Rattlesnake is attending the International 2013 as one of the two teams to fight in a Wildcard match to determine who takes the final spot in the participating teams. This means they have to beat Quantic (formerly DD.Dota) before they can move on to the group stages and eventually to the main event.
Current Roster
Yinqi "Luo" Luo (C/2)
Peng "Icy" Wang (1)
Kai "Kabu" Zhao (3)
Zhicheng "LaNm" Zhang (4)
Li "NEO" Guo (5)
The International 2013 – East Qualifier – Playoffs – Rattlesnake vs Rising Stars – Game 2
Editing by: Enricko, Minh and Steven