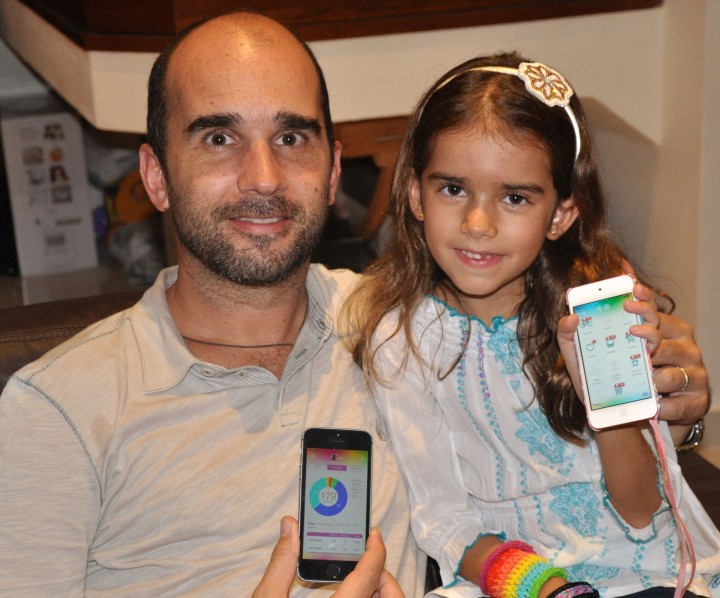 Kids are getting into mobile development at increasingly younger ages nowadays. Not too long ago, a 14-year-old coding prodigy named Daniel Singer raised US$200,000 for his US-based mini tech empire.
Kids in Asia are no pushovers either. Together with her father Erwan Mace, who is the CEO of Singapore-based mobile apps development firm Bitsmedia, 7-year-old Lia came up with the concept of an app named Mini Hug that helps busy parents track the amount of quality time they spend with their children – all by herself!
"My daughter first came up with the idea about a year and a half ago, when she was six. She came up to me and said, 'I have an idea for an app you could make.' I was stunned!" recalls Mace. "Her idea was to make an app to help other kids – starting with her own friends – and their parents spend time together and give each other lots of 'hugs' just like we do at home. I do that a lot as I work from home."
The concept is simple enough. What the app does is to help parents to keep track of the number of hours and the kinds of activities parents and their children engage in. Based on the amount and quality of engagement they have with their young ones, parents will gain reward points accordingly.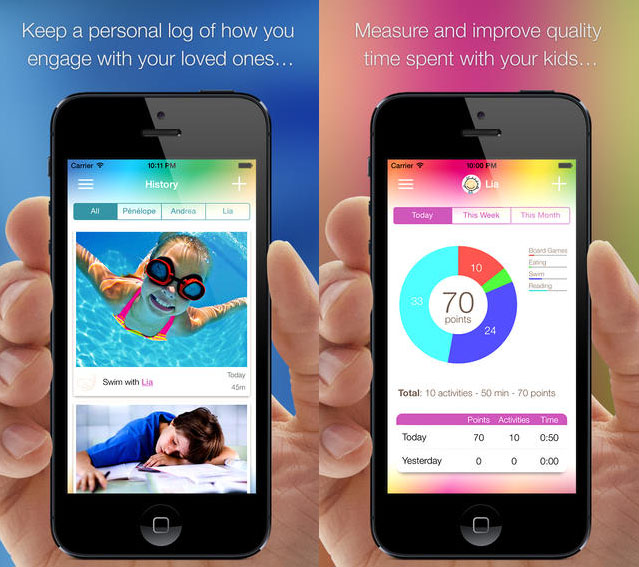 At the end of the day, points can be tracked on a daily, weekly, or monthly basis allowing parents to review their progress over time. The total number of hours spent together as well as activities done can also be viewed in the form of a pie chart. Interestingly, the app also has a leaderboard that allows parents to view how other parents are doing in terms of points, thereby challenging them to do even better.
Users are also able to take a picture to remember those moments. Up to 30 activities can be tracked at the same time, though more will be added in the near future.
Owning the creation of Mini Hug
Mace fondly recalls the process of naming the app, when Lia demonstrated a maturity well beyond her age:
Since her name is Lia, I suggested we call the app "Liapp" – to which she quickly replied that it was a terrible name and that 'Mini Hug' would be much better. I was stunned again! She was so right.
The father-daughter pair started working on it seriously just six months ago, and to Mace, it was quality time well spent. "It was a great opportunity to actually spend time together differently, and to try and teach her the basic steps involved in developing an app: from the ideation stage all the way to publishing," he says. "After polishing the feature list and detailed wireframes together, we launched a contest on 99designs to select a great designer. She would mark and rank each submission every night after school."
While Mace helped out a lot in the development process, Lia showed a sense of ownership over the app as she took a stand on certain things, such as confidentiality. Mace explains that she got that from her mother, who is a lawyer.
"I was not allowed to share anything about this app until it was ready to be submitted to Apple," he shares. "I tried to convince her that user feedback would be valuable, but I ended up having to respect her non-negotiable stand on this. It's her app, after all." Thankfully, they have received positive feedback so far while showing it around over the past few weeks.
The best part? The entire development process was entirely bootstrapped. "We spent a few dollars for the design, and everything else is 100 percent homemade," Mace says.
Work-home balance
Mace feels that Mini Hug will be especially useful for parents who are having trouble juggling working and home life. Being a work-at-home parent, he enjoys the privilege of being able to spend extended amounts of time with Lia. Because of this, the duo hopes that other children will be able to increase their own family time as well.
Have Mace and Lia tried the app out themselves? "I definitely started using the app with her as soon as I had developed my first viable early beta," says Mace. "It's awesome – it only takes a few seconds per day to track the activities you actually engage in with your kids."
Parents, if you are interested in Mini Hug, you can download it for free here.